At the beginning of 2019, the team here at Surewise.com decided that we want to find a new way to give back to our customers.
When the opportunity to work with Betterlife arose, we knew this was the perfect way to potentially change the lives of some of our customers, so we launched our first ever mobility scooter giveaway in January.
Our Winner: Hannah Eaton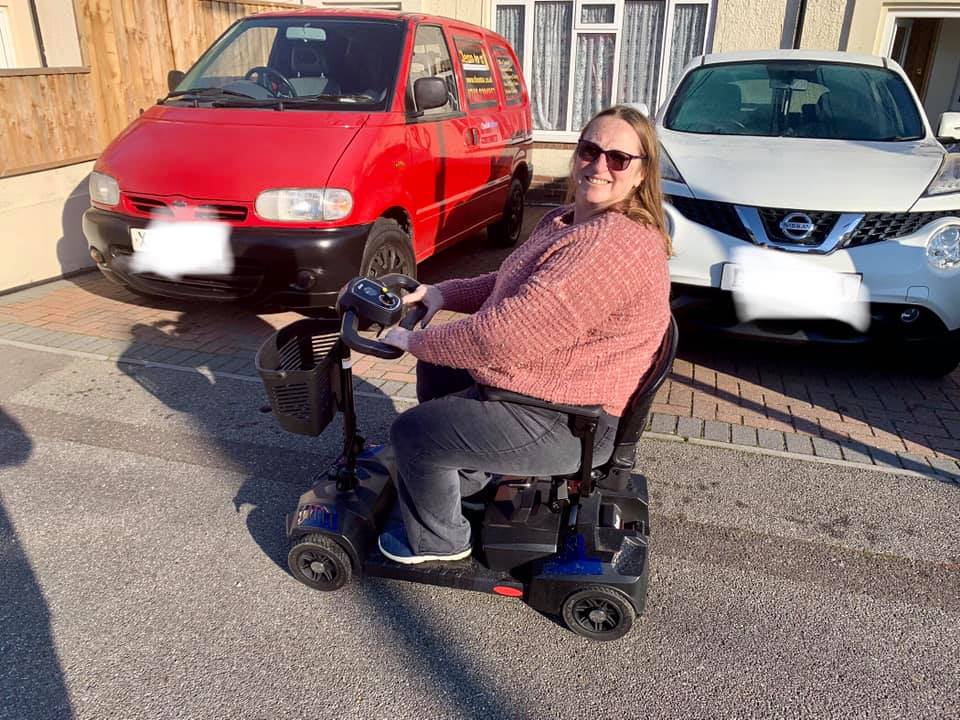 Hannah entered our January competition on behalf of her Nan, who struggled to get around as much after suffering from a heart attack.
The above picture is Hannah's Nan with her brand new mobility scooter that we delivered earlier this month! We're so glad that the competition was able to help someone regain their independence, and look forward to doing the same at the end of our February competition!
Betterlife
Betterlife is a mobility and independent living company that is a part of the Lloyds Pharmacy group, and provide solutions to help with everyday tasks and getting around.
We've partnered with them to giveaway a second-hand mobility scooter every single month.
To enter our latest competition, simply check out the pinned post on our Facebook page for the full details.
Unfortunately, not everywhere is easily accessible for wheelchair and mobility scooter users, which often means a little more research is required if you want to have a stress-free weekend break.
Although there are still some UK destinations and attractions that may not be very accessible, more and more are making changes to ensure that everyone can enjoy themselves, mobility scooter or not.
Below, we've compiled our ultimate list of UK destinations and attractions that are mobility scooter-friendly, and guarantee a great day out for all the family.
Check out our lists below – and let us know which you're planning on visiting soon!
Top Mobility Scooter & Wheelchair Accessible Attractions In The UK:
Warner Bros Studio Tour, Hertfordshire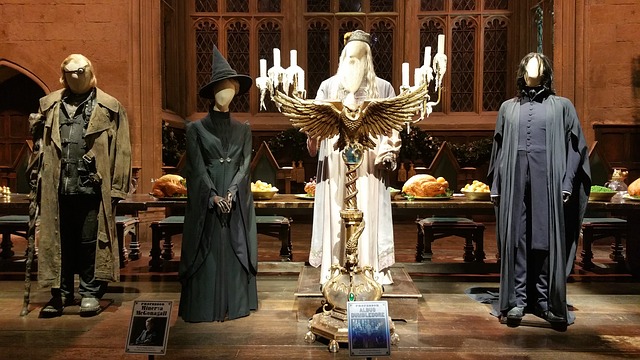 The Harry Potter Studio Tour based in Watford, Hertfordshire, is a wonderful day out for all the family.
Whether you've read all the books, seen all the films, and call yourself a mega-fan, or you're just friends with one, there's still something there are for everyone.
Roam around the real sets and costumes from the films, and be stunned by the Hogwarts Express! The Studio Tour has BSL and audio described tours available, and also has good accessibility through as well as free carer tickets to ensure this is a day out anyone can enjoy.
The Chill Factore, Manchester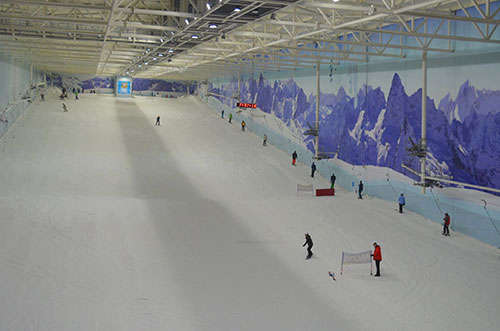 Chill Factore is home to Disability Snowsport UK, which is a national charity that enables individuals with disabilities to take part in
adaptive skiing.
This centre is able to cater for people with very limited mobility, with the rest of the attraction also accessible with lifts.
If you're a bit more of a daredevil and would love to get involved in a more active day out, a visit to the Chill Factor could be a great day out for you.
The Eden Project, Cornwall
The Eden Project is a conservation project with plants from all over the world inside two huge biomes. It's a wonderful day out to enjoy some of the weird and wonderful elements of nature, with good access. Other features include accessible parking, toilets, guides in a variety of formats, and free carer tickets too.
Giant's Causeway, Belfast
Giant's Causeway is a National Trust heritage site that is one of the most beautiful natural wonders in the UK. Although there are some accessibility concerns involved here, it is still a brilliant day out for everyone.
The site features mobility parking and a wheelchair friendly shuttle bus, as well as a fully accessible visitors centre and accessible toilets. In regards to approaching the site itself, there is an accessible trail but mobility scooter and wheelchair users may need added assistance.
London Zoo, London
London Zoo is a great day out for people of all ages, and it is an almost completely accessible site for wheelchair users and people with limited mobility, so anyone can visit the Land of Lions, the Aquarium, and much more.
Staff on-site are fully trained to provide support to people with additional needs, and there's even a Special Children's Day from May 19th – 29th where children with special needs can come and meet the animals for a discounted fee.
Wheelchair hire is available, but this should be booked in advance.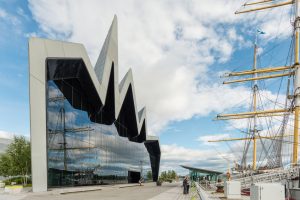 Riverside Museum, Glasgow
The Riverside Museum is a transport museum that hosts artefacts from hundreds of years ago all the way up to the most modern technology.
Anyone who's interested in transport will love a day out to this fun museum, and as a newly built site, making everything accessible was a top priority.
Top Mobility Scooter & Wheelchair Accessible UK Destinations:
Below are six more destinations that have a fantastic range of activities that are accessible for mobility scooters and wheelchairs.
East Anglian Coast
The East Anglian coast is famously flat with wide sandy beaches, making this area of the UK ideal for anyone with mobility problems.
There are a number of things you can do here, from enjoying beach wheelchairs in Great Yarmouth, bird and seal spotting in Dunwich, to beautiful seaside walks along the coast on accessible, flat paths.
Brighton
The seaside city of Brighton is a fantastic destination for anyone with mobility issues. From Brighton Dome, Brighton Wheel, to the Sea Life Centre all make for wonderful days out and are accessible for wheelchair and mobility scooter users.
If the sun is shining, you can also enjoy walking along the pathway by the beach and take in the many shops, restaurants and more that make Brighton such a unique destination in the UK.
Cairngorms National Park
Cairngorms National Park is located in the North East of Scotland, and is the perfect UK destination for those amongst you who like to get a little adventurous when you go away!
Full of mountains, rivers, and forests, the National Park has a number of trails that are accessible for both wheelchair and mobility scooter users, as well as a number of sandy beaches perfect for relaxing and taking in the scenery. Cairngorms also has a Mountain Railway and Ski centre which is accessible year-round with a funicular railway to access the mountain top.

Fairburn Ings, Castleford
Fairburn Ings is located in Castleford, West Yorkshire. The RSPB Fairburn Ings centre is an ideal day out for birdwatching and pretty nature walks through the countryside. The centre has many easily accessible trails and also has a wheelchair accessible bird hide for anyone to enjoy.
Head here if you fancy a weekend away in the countryside with an abundance of UK wildlife to watch and enjoy.
Lake District
The Lake District has without a doubt some of the most impressive, beautiful scenery in the whole of England, with mountains and sparkling lakes aplenty. There are many walks around the many lakes that are accessible for wheelchair and mobility scooter users, allowing you to enjoy a walk around the countryside and the chance to immerse yourself in the impress views.
Be sure to have a look at the Lakedistrict.gov.uk database detailing over 40 accessible walks.
Pembrokeshire, Wales
Pembrokeshire is home to one of the most beautiful coasts in Wales. With a host of activities and things to do for anyone, including those with limited mobility, this is one of our top picks for a summer's day out for everyone to enjoy.
The National Park has over 15 routes intended for mobility scooter users and powered wheelchairs – take a look at their 'Walks for All' guide for more information.
Protect your mobility scooter and yourself against any accidents, thefts or loss with our mobility scooter insurance. For more information, get your quote today.
Any business will be well aware of how quickly paperwork can pile up. Sensitive documents, records, and important information is essential to continue the growth of your company, but storing these documents on-site can quickly take up safe that could be better served for other reasons.
These days, storage facilities are so popular across the UK that it is easier than ever to securely store your documents and keep them archived until a date that you need them. In fact, many businesses choose to store their documents off-site to free up space in their office for more employees and equipment.
There are a few key factors to bear in mind regarding document storage for businesses.
Here, we've covered what you need to consider.
1. Accessing Your Documents
Storing your documents off-site is a great way to save on space in your office to allow you to scale up your business, but you do need to consider how easily you will be able to access your documents.
Things worth considering in regards to access include:
The location of the storage facility (how far is it from your office?)

Storage facility opening hours

How often you will need the documents
If you need to get access to a document urgently and find that your storage facility is closed without any way for you to get into your unit, it could be a disaster for your business. Doing your research beforehand and making sure you would be able to access your documents when you need them is, therefore, a good idea.
2. Security
If you are storing sensitive documents, you want to know that they're being stored in a secure facility with the appropriate measures to keep your items safe.
Standard security procedures will be to supply industry-grade boxes that will prevent mould or damp getting into your documents, with some storage facilities also offering temperature-controlled rooms to protect your documents long-term.
In more general terms, a secure storage facility should have:
CCTV

A manned presence at all times

A check-in/check-out list

Fencing

Dry and secure storage units
Read our guide to checking how safe your storage unit is for more.
3. Privacy
Currently, all UK businesses are bound by the General Data Protection Act to ensure sensitive documents and records held are protected. Document storage for businesses means that you are responsible to ensure the records you hold are stored with the appropriate level of privacy and security.
Taking care to ensure that you select the right storage facility with a high standard of security is therefore essential to the interests of your business.
4. Cost-Effectiveness
If you aren't quite sure if storing your documents is the best move for your business, it's worth calculating the cost-effectiveness of this decision first.
Moving your files into storage can help you save money by:
Freeing up space in your current office rather than needing to up-size

Reducing the amount of equipment and storage materials you need

Freeing up time for your staff to focus on other tasks
These days, it's extremely easy to store your documents safely in a storage facility in the UK and arrange the transport of them back to your headquarters when you need them, that it's well worth considering just how cost-effective this move could be for your business before making your decision.
5. Time-Scale
How long will you be storing your documents? Is this a temporary move while you relocate offices, or is this a long-term move to cut down on costs and save space in your current office?
Considering the length of time you plan to store your documents for is a good idea before signing up to any single storage facility. This is because you may be able to negotiate a better rate with some facilities if you are storing your documents long-term.
6. Insurance
Most storage facilities will make having insurance a mandatory requirement. Storage insurance will keep your items covered in the case of things such as:
Fire

Flooding, storms, and natural disasters

Vandalism

Theft

And more
Document storage for businesses may not feel like a high-value item to cover, but storage units can be useful for a number of reasons for businesses, so covering the value of anything stored inside is always worth it.
At Surewise.com, we offer commercial storage insurance for short and long-term rental from as little as £13.49 per year.
Read more about our storage insurance and get a quote today.