Our Mobility Scooter Insurance Price Match Guarantee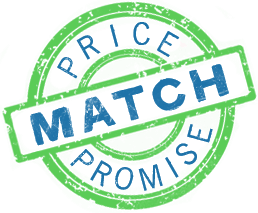 We offer much more than just great Mobility Scooter Insurance prices, but we don't want price to be a reason you shop elsewhere.
At Surewise we believe that our products are the cheapest and best value on the market.
So, if you find the same cover for less elsewhere, we promise we'll match it – even up to 7 days after your purchase.
All you need to do is make a note of the supplier, its price and the cover you want us to match. We will verify and match the price there and then for you.
To benefit contact us by visiting our help centre.
Price promise terms and conditions
We'll match our competitor's website UK price.
The competitor's product must provide the same cover levels as ours, be offered on the same terms, and be purchasable online.
We will price match up to 7 days after your purchase.
We must be able to verify the competitor's price and cover levels.
We'll match the price of a product; not other charges or other services, and a discount must not have been provided.
Cannot be used with any other offer.
Please click our quote button above or visit our Mobility Scooter Insurance page to see how easy it is to get a quote and purchase a policy with us.

Here are just a few of our favourite recent reviews