We're delighted to work with new partners, and our systems have been designed specifically with partner integration at their forefront.
This could be perfect for your organisation if you're looking to earn a commission or looking for a value-added product.
It's easy to sign-up to our partner scheme and you could start earning commission the same day!
We work with our partners in a number of ways from a straight forward tracking url (surewise.com?ac=you) to a full white label or XML solution.
We can provide the following:
a straight forward commission per sale account
closed user group discount
combination of both of the above
We have a wide range of partners from high street shops to charities to national brands. The simplicity of our systems allow us to work with companies of all sizes.
More about our systems
Our My Account section of the site will give you up to date sales information at any time of the day. We can set you up a single account or multiple accounts if you have a range of marketing sources you wish to track.
Login…

Check your sales…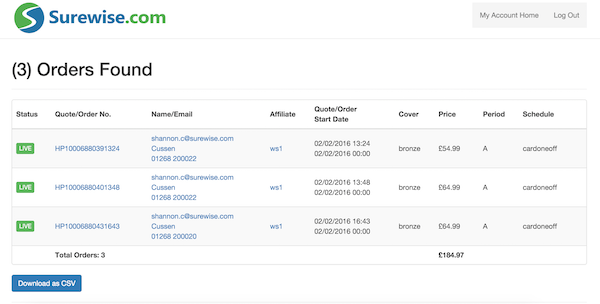 Our Products
We're able to offer partnerships with the majority of our products.
Carers & Direct Payment Employers Insurance
We currently work with over 70 local authorities and arrange insurance directly with clients.
We can work with Payroll companies on an invoice basis, plus we provide dedicated fulfilment systems, licencing to arrange insurance and provide you a dedicated account manager. We also provide full regulatory training on all our Direct Payment Carers Insurance.
Domestic and Landlord Home Insurance
We work with property management companies and estate agencies as well as a number of property websites in numerous ways, from straightforward lead generations to mandatory insurance. Our systems can manage multiple properties discounts and solutions for property investors.
Home Buyers Protection Insurance
Our home buyers insurance is unique in the market by providing a choice of cover. This is the perfect product for agencies looking for extra commission or companies looking for a value-added product.
Mobility Insurance
We work with a number of shops and mobility scooter hire companies on a commission and value-added basis.
Storage Insurance
Our self-storage insurance provides comprehensive levels of cover with immediate cover and certificate for customers. The price of your policy will depend on the duration and the value of contents where you can select cover from as little as £2,500 and goes up to a maximum combined value of £25,000. This can be purchased from 1 week to 12 months, which can be extended upon renewal.
Please completed the form below if you would like to speak to a member of the partner team:
*required fields