Compare Mobility Scooter Insurance
Surewise offers affordable mobility scooter insurance that also covers powered wheelchairs, but you don't have to take our word for it.
You can compare our prices against other mobility insurance providers to help you make an informed decision.
| Insurance Company | Cover Level | Duration | Price |
| --- | --- | --- | --- |
| Surewise | Basic | Year | £38.00 |
| First Senior | Triple Star | Year | £69 |
| Premier Care | Basic Cover | Year | £86 |
| Fish | Lite | Year | £45 |
| Blue Badge | Standard | Year | £46 |
| Chartwell | Basic | Year | £62 |
| Mark Bates | Standard | Year | £86 |
| ETA | Standard | Year | £65 |
Prices are correct at the time of publishing; however, providers may change their prices at any time.

The numbers don't lie; our prices are the most affordable, but what exactly do we cover?
Our Mobility scooter insurance policy covers:
No excess or age limit
Cover for multiple drivers
Loss, theft or damage
Third-party liability
Legal Cover & Expenses
Accidental damage to property
Recovery costs
New for old replacement
Personal accident
Personal effects
Hire costs (Silver & Gold)
Hospital benefit
Personal assault
Puncture care
Worldwide cover (excluding USA and Canada)
Manual wheelchair cover
If you want affordable, comprehensive mobility scooter insurance, get a quote now.
Surewise Mobility Scooter Insurance
We believe that we provide the best cover at the lowest prices with the best underwriter but please let us know if you think otherwise and we'll price match for you.
Your Price Match Guarantee
We offer much more than just great prices, but we don't want price to be a reason you shop elsewhere.
At Surewise we believe that our Mobility Scooter cover is the best value cover on the market.
We promise that we will match the cheapest mobility scooter insurance, with the same level of cover, that you can find – even up to 7 days after your purchase.
All you need to do is make a note of the supplier, its price and the cover you want us to match. We will verify and match the price there and then for you.
To benefit, please contact us via our help centre.
Price promise terms and conditions
We'll match our competitor's website UK price
The competitor's product must provide the same level of cover as ours, be offered on the same terms, and be purchasable online.
We will price match up to 7 days after your purchase
We must be able to verify the competitor's price and cover levels
We'll match the price of a product; not other charges or other services, and a discount must not have been provided
Cannot be used with any other offer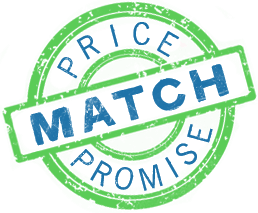 Blue Badge Mobility Insurance
Blue Badge Mobility Insurance provides cover for mobility scooters, which starts at £46 per year. The standard policy doesn't include breakdowns, but you can choose the optional extra Recovery Service policy, which includes recovery after a breakdown or accident, provided it occurs within a 20-mile radius of your home. It also includes your transport costs back home.
Fish Mobility Scooter Insurance
Fish's lite £45 Mobility Scooter Insurance is only available over the phone and does not cover full breakdown and recovery, but you can choose the 'Extra' policy, which covers breakdown, rescue and punctures. Recovery services are available within a 10-mile radius of your home and include taxi costs to get you home. The extra policy costs £114 per year.
ETA Mobility Scooter Insurance
ETA offers breakdown assistance for mobility scooter drivers that includes home rescue for troublesome scooters at home and recovery home or to a repair centre for breakdowns on the road. Qualified mechanics will attempt to repair your mobility scooter on the scene, but if not, you and your scooter will be transported to a suitable repairer. Recovery services can take you home, provided the breakdown occurs within a 15-mile radius of your home. Breakdown-only insurance costs £40 per year.
Motability Mobility Scooter Insurance
Mobility scooter on the road – Motability offers breakdown assistance and cover for mobility scooters that includes recovery back to your home. The cost of cover is included in your Motability lease.
AJ Mobility Scooter Insurance
AJ Mobility offers breakdown recovery insurance guarantees that a qualified engineer will respond to your call within 1 hour. If your mobility scooter can't be fixed, AJ Mobility will arrange for a taxi for you and will take your scooter back to the workshop for repairs. Mobility Rescue membership costs £59 per year.
Chartwell Mobility Scooter Breakdown Cover
Chartwell's mobility scooter breakdown-only insurance costs £36 per year and includes roadside assistance, recovery back home and costs of hiring a replacement.
Looking for Mobility Scooter Insurance? – Price Promise with No Hidden Fees, No Excess, No Age Limit and 2nd Hand Scooters Covered,