Whether you are a tenant worried about receiving your deposit back, or a landlord looking to establish your rights and obligations, the question of end-of-tenancy cleaning and whose responsibility this factor lies with is an important issue to ensure all parties are clear on.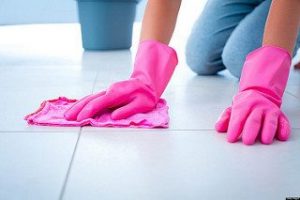 It's enough of a chore to clean up after yourself, let alone clean up after others. So when you move into a new flat, you don't want any signs of the previous tenant. Particularly if the signs indicate a lax attitude to hygiene. End-of-tenancy cleaning ensures that future tenants will feel as though they are moving into a brand-new property.
Existing occupants are usually responsible for end of tenancy cleaning. That doesn't mean you have to get down on your knees and start scrubbing floors. Instead, we look at what end-of-tenancy cleaning really requires.
Who is responsible for end of tenancy cleaning?
The tenant is responsible for the end of tenancy clean. They are responsible for returning the property to the landlord in the same condition with which they received it, minus any wear and tear. 
'Wear and tear' has no precise definition but has a common sense application. Goods will naturally deteriorate over time. Carpet and walls may fade in colour slightly, etc. That is legislated for here. Anything above and beyond this reasonable deterioration, tenants can be held responsible for.
The landlord is legally entitled to recover any costs associated with returning their property to its previous condition from the tenants deposit, if applicable, and this includes cleaning.
What are the penalties for inadequate end-of-tenancy cleaning?
End-of-tenancy cleaning is required if you want to claim the full amount of your deposit back at the end of your tenancy.
Around 61% of UK tenants lose some of their deposits each year. Cleaning issues is the main cause, being a factor in 80% of the cases, with the average deduction for cleaning £200.
How clean is clean?
Tenancy agreements stipulate that tenants leave the property in the same condition they found it. You are, of course, not expected to improve the condition of the property. Ensure you keep copies of the inventory reports, so you aren't penalised for damage incurred before your arrival.
This is one reason landlords and tenants alike are advised to have photographic evidence of the state of a property upon moving in so there is no question of what condition it needs to be returned to.
Who has to clean the property?
End-of-tenancy cleaning is the responsibility of the tenant, but you can hire a cleaning company. Schedule the job as close to the final inventory check as possible so that the inspection will find the flat in its cleanest state.
DIY cleaning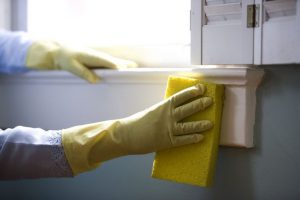 If the property is a small one, you could save yourself some money by cleaning it yourself. It also helps if:
You've kept the home meticulously clean throughout the tenancy
You have experience with cleaning
The property is unfurnished
Remember that you may need specialised cleaning equipment, like carpet and upholstery steamers. If you're uncomfortable with that, or if you have any allergies to cleaning products, it may be best for you to employ a professional company. After all, your security deposit is on the line here.
Hiring a professional cleaning company
In some cases, landlords have managed to include a "professional cleaning" clause in the agreement, forcing tenants to pay up to £400 for professional cleaners. For the most part, landlords aren't in a position to make such demands. The Office of Fair Trading addresses this issue in its guide to unfair terms in tenancy agreements.
Note: If the tenant(s) don't meet the minimum cleaning requirements, landlords may have to hire a cleaning service to get the job done. In this case, they can charge the tenant for the cost.
Experienced landlords can recommend good cleaning companies; in fact, they may have agreements with a cleaning company for good rates. You should try to find an insured provider, so you can rest easy that the costs of any damage or theft will be covered by the cleaning company.
Tip: If you are the tenant, it would help a lot if you could obtain a copy of the final inventory inspection checklist from your landlord. Whether you are conducting the cleaning operation yourself or hiring professionals, the checklist is an invaluable resource, as you will know exactly which elements of the property will be the focus of the inspection.
How much does an end of tenancy agreement clean cost?
Professional cleaners are the safest way to ensure you have your full deposit returned. However, if you live in a small property, you may be able to do it yourself.
This will be easier if you have taken care to keep the property in good condition throughout the tenancy or if the property came was rented unfurnished.
You may still need to use specialised equipment, beyond the rubber gloves and the Dettol! Carpets, in particular, will likely need cleaning by professional equipment.
With deposits typically 4 or 5 weeks rent, most tenants enlist a professional cleaning company to secure it. You can find a company or your landlord can often recommend one- sometimes they can even help you benefit from preferential rates.
Prices vary, accordingly to how many rooms the property has. You can expect to £100-150 for a studio flat, upwards of £300 for a larger family home.
An inventory is useful to protect both parties- what was included in the property when the tenancy started and what condition it was in. For renters, they also make you aware of what will be the focus of the inspection, so you can prioritise accordingly.
Does landlords insurance cover damage or cleaning at end of tenancy?
Landlords insurance does not cover the cost of end-of-tenancy cleaning. However, Surewise Landlords Insurance DOES cover:
cost of removal of tenant's debris
malicious damage or theft by tenants
The takeaways:
Tenants are responsible for end-of-tenancy clean
They are responsible for restoring the property to the state they got it in, minus any reasonable wear and tear
Landlords insurance will not cover end-of-tenancy cleaning (however the tenants deposit can be used, if they do not adequately fulfill their cleaning obligations)
Landlord's insurance does cover the cost of removing tenant's debris, and any malicious damage or theft by tenants
If you are a landlord, looking for piece-of-mind, check out our popular landlord's buildings and contents insurance. Cost-effective protection, with policies that can be tailored to you and your requirements.
Need Landlord's Insurance?
– Cover for all your landlord risks
Click Here
for a quote!