Our National Mobility Scooter Database is a comprehensive and secure platform dedicated to safeguarding your mobility scooter. This service is available at no cost to all mobility scooter users, providing you with the opportunity to register and protect your valuable equipment.
By joining our database, you are taking a proactive step towards ensuring the security of your mobility scooter, contributing to the overall safety and well-being of the mobility scooter community in the United Kingdom. What's more, this simple step drastically increases the likelihood of being reunited with your scooter in the event of a theft.
How to Register for the National Mobility Scooter Database
If you have a Mobility Scooter Insurance policy with Surewise and you haven't given us your scooter details yet, please visit your My Account to register them.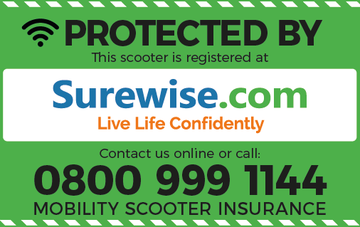 If you don't already have the official database stickers to add to your mobility scooter, we'll get them sent out to you ASAP.
If you do not have a policy with Surewise, you can contact our customer service centre directly and our agents will assist you with adding your details to the database.
What Happens Next?
We'll send you your national database stickers to the address provided, where you can then stick them to your scooter.
In the event of a theft, should the police be able to recover your scooter can then contact us and we can assist in reuniting you with it.
Additionally, the stickers alone act as an effective deterrent for would-be opportunists.
Using the Database
If you are a member of the Police and you would like to trace a Mobility Scooter back to its owner, please contact us through our Help Centre using an official police email address with the details you would like to trace.