This month we have launched our new campaign that focuses on celebrating the growing number of self-storage businesses in the UK and highlighting those that go the extra mile to deliver a positive customer experience.
We understand that choosing a storage unit can be somewhat of an overwhelming experience. That is why we have created this campaign to help highlight those that are providing outstanding customer service to help guide you when making the decision of where to store your precious belongings!
To help us make that all important decision of who to pick our monthly winner, we will carefully evaluate factors such as online reviews, security measures, pricing, and overall customer satisfaction.
Stuart Bensusan, Director at Surewise adds:
"Storage Unit of the Month is a new incentive that we've just recently launched. Its focus is to celebrate the growing number of self-storage businesses in the UK and highlight those that are going above and beyond. From offering their customers (and ours!) excellent customer service, to offering fair and competitive rates, to overall customer satisfaction."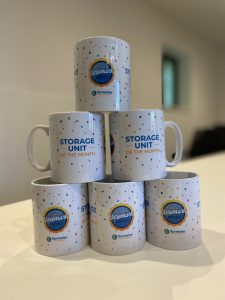 The First Winners: GTW Storage, Glasgow
The first winner of Storage Unit of the Month is GTW Storage. This exceptional facility boasts an impressive heritage, being a fifth-generation family-run business that was established in the 1930s. 
GTW Storages initially began as a small family-owned business specialising in manufacturing storage containers for local businesses. 
Nestled within the bustling city of Glasgow, GTW Storages finds its home in a historically significant building that was once a vibrant Tobacco Warehouse. The warehouse dates back to the days of Glasgow having a thriving international port, this facility stands as a testament to the city's storied past.
The building itself has a captivating charm and character to it, with state-of-the-art intruder detectors, CCTV and keypad entry.
With friendly front-of-house staff eager to assist you with finding the perfect unit for your needs and requirements, it couldn't be easier to get started with a storage unit!