Direct payments are a cash payment paid by your local authority which can be used to hire your own care services directly.
This payment is designed to be enough to cover the full costs of hiring care services and support that you have been assessed to need, including your Personal Care Assistant's salary or paying a Home Agency for their services, as well as any additional costs you need to factor in such as insurance.
If you have been assessed to need care services by your local authority, you may prefer to handle putting this in place yourself (or entrusting a loved one to assist you), rather than having the council arrange your care. In this guide, we'll cover everything you need to know about understanding direct payments, how much you may be entitled to, and exactly what you can use your payments for.
Contents: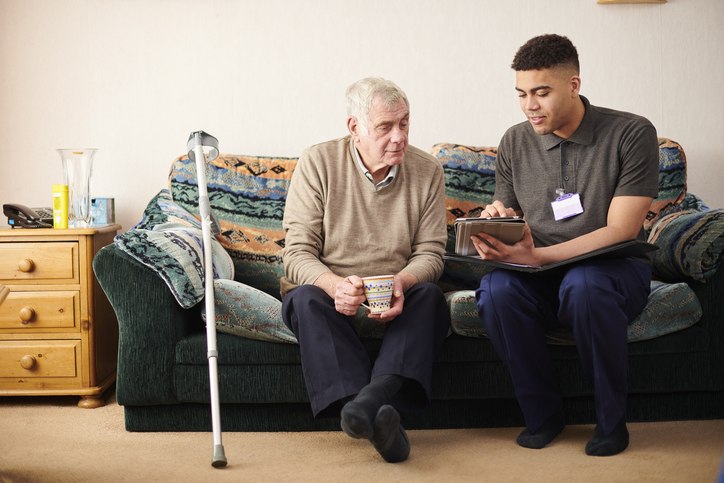 What are the benefits of direct payments?
Direct payments are a popular option for many people, and an alternative worth considering if you would prefer to arrange your own care or have a family member arrange your care on your behalf rather than relying on an agency services provided by your local authority.
Some of the main benefits this option offers includes:
Greater independence
More control over the exact type of care you recieve for your individual needs
You have more flexibility than you may recieve from care arranged by your local authority
Who can get direct payments?
If you are already recieving care services from your local authority, you will be entitled to ask them to switch to direct payments instead.
If you do not currently recieve any social services, you will need to request for your care needs to be assessed. Direct payments will typically be available to you if:
You have been assessed to need services under Health and Personal Social Services legislation
You are aged 16 or over and have a disability
You are an older person (care needs will still need to be assessed)
You are a carer aged 16 or over
If the person requesting direct payments does not have mental capacity, or does have mental capacity but would not be able to handle recieving direct payments, a third party can be nominated to recieve the direct payments provided the local authority agrees that person will be acting on the person who requires care's best interests.
What can I use direct payments for?
You can use your direct payments to:
Buy support and care services from an agency
Employ a personal care assistant directly
Pay for short stays in a care home
Pay for other care services such as day activities
Buy equipment or adaptations
In the case of people who require care, this means hiring care and support services to assist you in your day to day needs. This could mean hiring care from an agency, or directly hiring a personal assistant.
If you are a carer, you may have been deemed eligible for direct payments to assist you in your role as a carer. For example, your local authority may agree that you would benefit from driving lessons in order to fulfill your role as a carer, and in this case you could use the direct payments for the lessons.
What can't I use my direct payments for?
There are specific things you may not use your direct payments for, and it is important that you follow these regulations to ensure your payments are not jeopardized. You cannot use your direct payments to:
Hire family member such as your spouse, parent or parent-in-law, child, brother or sister to pay for care
Buy local authority services
To employ anyone you live with for care
You are also not allowed to use direct payments to pay for support services provided by your local authority, or to pay for long-term residential care, for example in a care home.
How much can I receive?
The number of direct payments you receive is entirely decided by the Trust's assessment of your needs and the level of support you require. If you already receive services from your local Trust, make an inquiry about direct payments with them.
Generally, the maximum you will receive is £100 per week.
Your direct payments should cover the cost of employing care, as well as additional expenses such as insurance, statutory holiday pay, national insurance, sick pay etc.
Hiring a Personal Assistant With direct payments
If you choose to hire a personal assistant to provide your care, there are some things you should know. Hiring a personal assistant with your direct payments gives you the role of an employer, and with that come some responsibilities you need to be aware of.
Insurance
First, as an employer, you are legally required to have Employers' Liability Insurance. This covers you in the case of your employee (i.e. anyone you have hired to provide you with care with your direct payments) being injured or having their property damaged and holding you responsible.
We offer Direct Payments Carer Insurance specifically for these circumstances, with three different levels of cover to suit different needs. Other benefits our cover options include are emergency dental cover, motor theft, employee negligence, redundancy cover, travel, medical expenses & much more. You'll also want to be sure that any healthcare tasks you need assistance with are covered within your insurance.
Visit our quote page to find out more and get a quote for your direct payments carer insurance.
Contract of employment
You are also legally required to create a contract of employment when hiring someone to assist you with your care needs with direct payments. The contract must specify:
The job role
Start date
Rate of pay and how they are to be paid
Working hours
Agreed holiday
Sick pay
Notice requirements
Termination terms and conditions
Paying your employee
As an employer, you are also responsible for paying your employee and organising their:
Tax contributions and National Insurance
Pension contributions
If these tasks seem to overwhelming, however, you can choose to use a support provider or payroll services to take on these responsibilities. You should note, however, that using an additional service does come with additional charges from your direct payments.
Do direct payments affect any other benefits I may be receiving?
If you receive direct payments as a carer or as someone who needs to purchase care services to meet your needs, these payments are not counted as a means of income and therefore do not affect your other benefits.
If the person you care for pays you with their direct payments, however, then this is classed as earnings and could affect other benefits that you receive.
Useful links & organisations
HM Revenue & Customs
Website: www.hmrc.gov.uk | Telephone 0300 200 3200
HMRC has a useful helpline providing support for anyone considering becoming an employer (classes as anyone with one or more employees).
Citizens Advice
Website: www.citizensadvice.org.uk | Telephone 0344 411 1444 (England)
A network of advice centres available nationwide to provide confidential and independent advice.
Care Quality Commission
Website: www.cqc.org.uk/ | Telephone 03000 616 161
The CQC is the independent regulator of adult social care and health services in England.