Find out how to store your mobility scooter correctly to keep the scooter and battery in top condition when in storage for an extended period of time.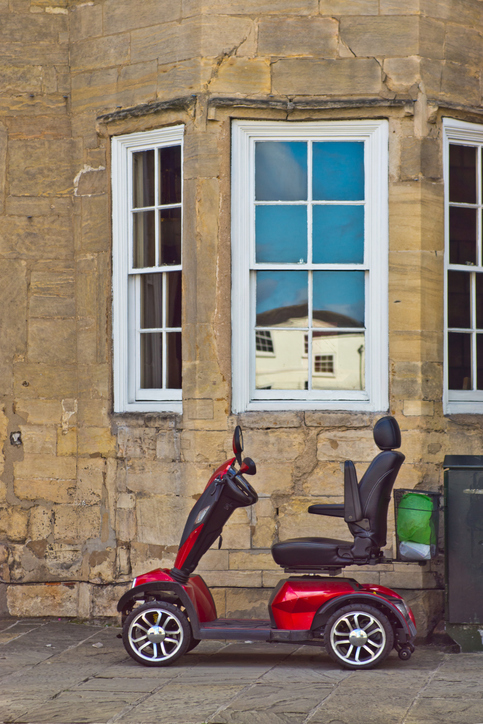 You can download a free pdf version of this guide, here
There may come a time when you need to store your mobility scooter for a longer period of time, and it's essential that you take a few precautions to ensure your scooter remains secure while it's stored away.
This quick step-by-step guide was designed to make sure you're correctly storing your mobility scooter both for shorter and longer durations so that it always stays in good condition until you next need it.

How to correctly store your mobility scooter for extended periods
1. Store It In A Dry, Secure Place
First, you will want to store your scooter in a dry, safe, and secure place. This could be a mobility scooter storage shelter, a shed, or a storage unit – ideally with a mains electricity socket so you can charge it. The shelter should also be lockable to keep your scooter safe from theft – this is especially important if you will be storing it away from your home, such as in a unit in the garden.
Make sure you have read your insurance policy's specific guidelines on storing your scooter properly – you will want to make sure you are adhering to typical policy conditions by storing your scooter in a safe and lockable place, whether that's indoors or in a separate unit.
The National Fire Chiefs Council (NFCC) recommends storing your scooter in a separate unit 6 metres away from your home, but in a place that is easy to access. A lockable garage or secure shed could also be ideal for this – just make sure it's not blocking any doorways and isn't stored in a damp area, which could corrode the battery.

2. Keep Your Battery Topped Up
Your mobility scooter battery will degrade over time if it is not used, so it's important to keep your scooter charged and ready for use. Make sure that you've charged your scooter's battery as soon as you return from a trip.
If you are using your scooter regularly, charging it up after every use is normally recommended. It does depend on what model you have, but charging your mobility scooter battery for longer than 12 hours is not recommended as overcharging could also damage your battery.
Instead, occasionally topping up the battery while it is being stored long-term is a good idea to ensure the battery doesn't go completely flat – charging the battery every two to three weeks should be fine, although in warmer weather perhaps only charge the battery once a month. We'd recommend checking your specifical mobility scooter manual for detailed instructions for your model.

3. Consider Stocking Some Spare Parts
Some people choose to have a few spare parts for their mobility scooter, which can definitely be useful. A few spare parts you might like to have include:
A spare battery (in case your main battery does go flat)
Spare tyre tubes
Light bulbs/reflectors
If you do want to get a spare battery for your mobility scooter, these tend to cost around £30 £50, although this will depend on your specific model. Again, make sure you've referred back to your scooter model to make sure you get the right battery for it.

4. Monitor Your Tyre Pressure
Keep your mobility scooter's tyres in good condition by storing your scooter at the correct pressure recommended by the manufacturer.
It may be a good idea just to double-check the tyres (and the brakes) are in good working condition before you take your first trip with your scooter after it's been in storage for an extended time.

5. Get your scooter serviced after storage
If your scooter has been in storage for several months without use, it may be a good idea to have it serviced to ensure there are no faults that could put you or others in danger.
Before your first use, check your scooter for any signs of major wear and tear, and be watchful for any unusual speed fluctuations and trouble steering as these could be indications that your scooter has developed an issue from under-use.
6. Make sure your insurance is up to date
Mobility scooter insurance isn't a legal requirement in the UK – but it is strongly recommended. Our mobility scooter insurance starts from just £3.80 per month, and will cover you for loss or damage to your scooter, third party liability and accidental damage to property, recovery, legal expenses, and personal accident.
Surewise has kept our prices the same for over five years, so you can live life safely knowing that the cost of your scooter is covered should something happen.