We are thrilled to officially announce that Surewise have partnered with Blesma, The Limbless Veterans Charity.
The Surewise team have long admired the inspiring work that Blesma do around the UK, supporting serving and ex-Service men and women who have lost limbs. We are excited to join forces with an organisation that shares our values and passion for making a positive impact.
Already, we have been inspired by the work that Blesma carries out  on a daily basis, and are looking forward to getting to know more of their team and members, and seeing how we can further support and collaborate in our shared goals.
As part of our partnership agreement with Blesma, we are committed to providing support to limbless veterans in need of support to re-gain full independence over their lives.
In line with this commitment, we are thrilled to confirm that we will be donating four scooters this year to individuals who will greatly benefit from them. In addition, our team will be taking part in some of the fantastic fundraising events Blemsa host each year.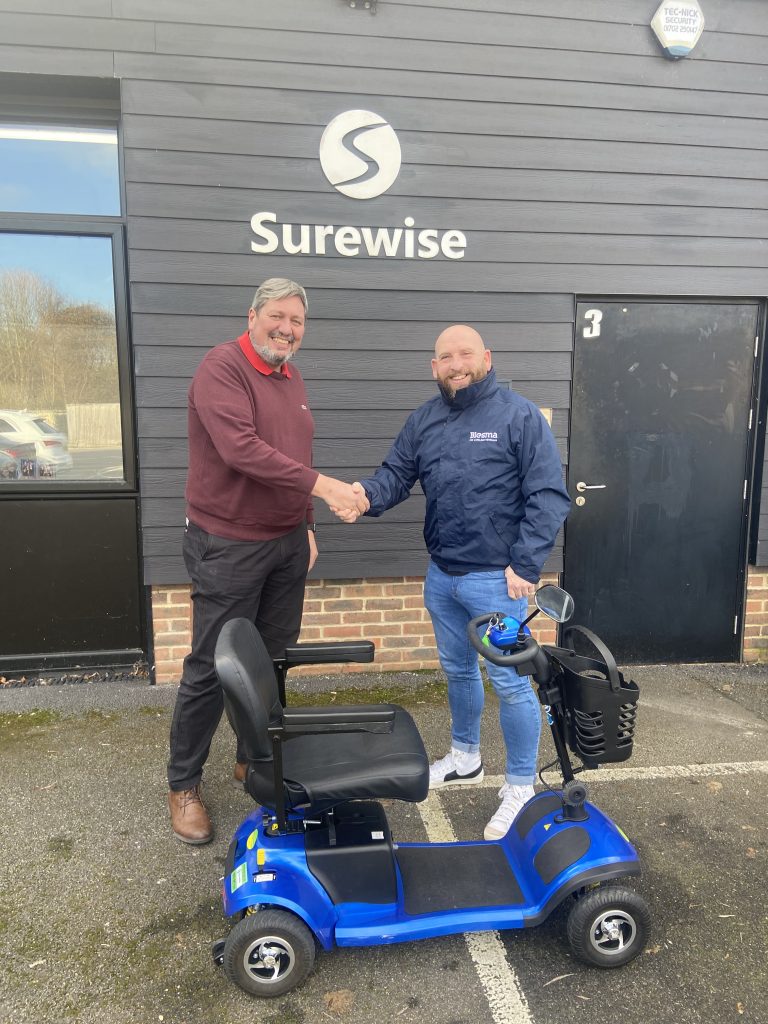 "We are delighted to be partnering with Surewise, it's a very exciting partnership which will enable us to engage the staff team in fundraising events and activities, another key part of the partnership is that Surewise will donate 4 mobility scooters to Blesma which will go directly to our Members these scooters will make a huge difference to the recipients. We are really looking forward to getting started." Chris Knight, Corporate and Regional Fundraising Manager."
Mobility Scooters To Change Lives
Terrance Davenport, a resilient individual who has faced significant challenges throughout his life, is the first of Blesma's members to receive one of our donated scooters. In the 1970's, he endured shotgun wounds inflicted by the IRA, resulting in severe leg injuries.
Remarkably, Terrance managed to continue using his leg until last year when ongoing complications and infections led to the difficult decision of amputating it. 
This major life change had a severe impact on Terrance, a sociable person who now found himself confined to living downstairs and unable to get out to see friends unaccompanied and having to rely on the assistance of his family to push him in a wheelchair.
Regarding his new mobility scooter, Terrance said:
"It has changed my life for the better as I am able to get out and have my independence and freedom back. Thank you!'"

Stuart Bensusan, Director at Surewise, adds:
'"We're thrilled to be able to contribute towards helping some of the limbless veterans Blesma have worked tirelessly to help, support, and advise for decades. With the first scooter already donated and three more on the way, we're excited to see how else this partnership can help to benefit the lives of thousands others across the UK."
Who Are Blesma?
Blesma was founded in 1932 with the mission to help limbless veterans in every aspect of their life to help them continue to live a fulfilled life. Whether the injuries are a result of combat, accidents, or illnesses, Blesma ensures that these brave individuals never face their challenges alone. They offer rehabilitation programs, expert advice, and practical assistance tailored to each member's unique circumstances.
Blesma's incredible support doesn't just stop at its individual members, they are committed to providing assistance to support the whole family. With events held across the year ranging from adrenaline-packed family fun days to educational workshops. Blesma relies entirely on donations for funding, ensuring that every contribution directly impacts the lives of their members.