The most common reason for using self-storage in 2022 was to move home, a new study from Surewise has revealed – although 18% of respondents would consider using self-storage to create more space in their existing home due to the expense of moving house.
The study, conducted on over 2,500 UK adults, revealed that over two-thirds of self-storage users are putting furniture and household goods into their unit, with almost a third of self-storage users being in the Gen X demographic.
Perhaps most shocking of all, 1 in 3 adults surveyed had no existing insurance policy on their storage unit, with just 7% of respondents opting for third-party insurance. With the recent revelation that 88% of customers will save money when buying storage insurance via Surewise versus over 130 storage facilities and competitors reviewed, a huge majority of storage customers are likely to be overpaying for their policy.
Key findings:
Almost half (49.4%) of all respondents used self-storage for moving house
The majority of self-storage users are Gen X (32.8%), followed by millennials (24.9%)
Over two-thirds of respondents (69.7%) mostly used self-storage to store furniture and household goods
The 4th most commonly selected option was storing sentimental items (5.7%)
22% of respondents would consider downsizing their home due to rising mortgage costs
Over a third of respondents (34.6%) did not have any insurance for the items they had stored
Stuart Bensusan, Director of Surewise, comments:
"Many homeowners find self-storage to be a far more convenient and cost-effective option when moving home as opposed to moving all their possessions in one fell swoop, so it makes sense that the vast majority of storage use can be attritubted to home removals and renovations.

However, the more concerning revelation of our study is the lack of insurance among many storage users. No matter how secure a facility might seem, the risk of fire or other potential incidents that could damage or destroy the belongings stored there can never be completely eradicated, which is why storage insurance is absolutely crucial.

To have your belongings destroyed or damaged is devastating enough – but to have sufficient insurance in place to cover the value of the items you have in storage means one less stress should you be one of the unfortunate few whose belongings aren't secure while stored away from your home.
Self-storage is an industry that has sky-rocketed in its growth in recent years. It remains a cost-effective staple that assists people in keeping their belongings secure throughout a number of key life events.
The past few years have seen the self-storage industry boom. The Self-Storage Association (SSA) 2023 industry report revealed that occupancy on lettable space is at 83.3%, with a 9% increase on average rental rates to last year (£26.13 per square foot per annum).
Moving home top reason for using storage
The top reason for using self-storage in 2022 was moving home, followed by a need to free up space at home.
As interest rates in the UK skyrocketed to 2.25% – the highest level in 14 years – towards the end of 2022, homeowners with fixed-term contracts soon up for renewal are understandably panicking about being able to afford their mortgage in the coming years. From our survey, 22% of respondents said that they would consider downsizing their home in order to avoid rising mortgage rates.
A further 18% would consider using self-storage to free up space in their home instead of incurring additional costs. However, moving home remains the most popular reason to use self-storage – with 49.4% of respondents selecting this option.
Other common reasons for using self-storage include not having enough space at home (12.4%), and storing goods for business purposes (8.6%).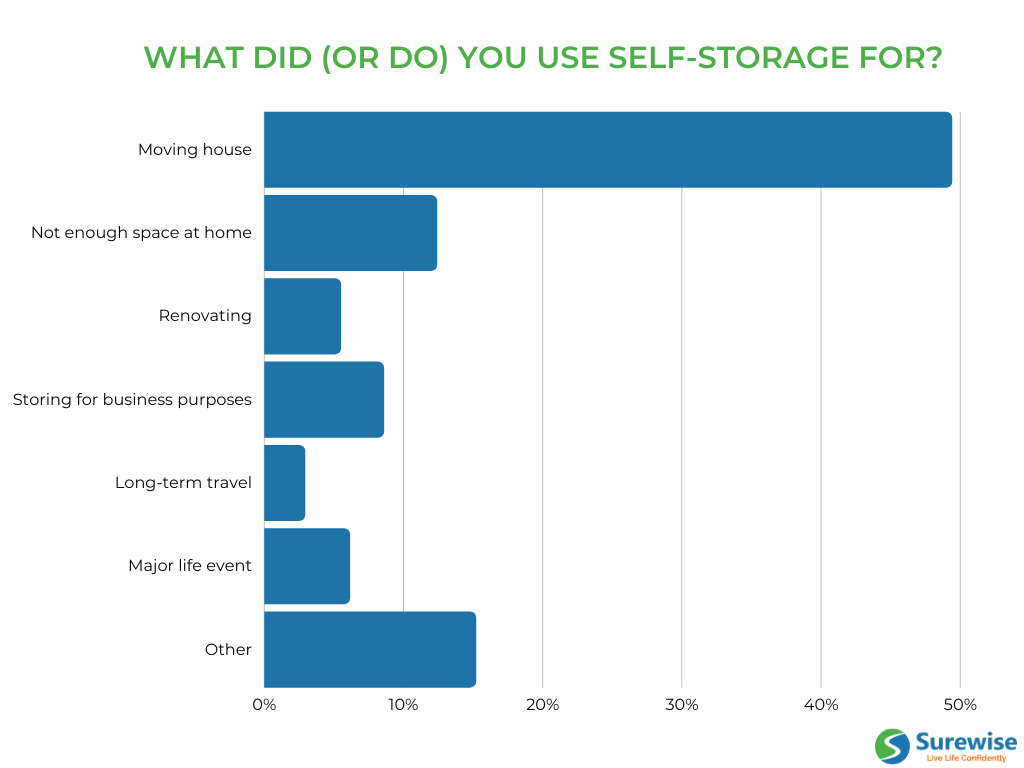 1 in 3 storage users have no insurance
Another interesting revelation from the survey was that a shocking 34.6% of self-storage users have no insurance for the belongings they have stored there. The research further highlights the lack of awareness many storage users unfortunately may have when it comes to their ability to seek out other insurance options than simply using the policy offered by their storage provider.
2 in 5 respondents (44.9%) insured the items they have in self-storage directly with their storage provider. However, data revealed by Surewise in partnership with ProInsight in 2023 has shown that 88% of customers will find cheaper insurance with our self-storage insurance than shopping directly with a storage unit or with a competitor.
Furniture is the most commonly stored item, followed by business items
Over 3 in 5 people say they most commonly put furniture and household goods into self-storage, making it the most common item stored away from home. The second category most commonly stored in self-storage are business-related items, followed by clothing.
5.7% of respondents say that they put sentimental items into their self-storage unit. This may be a small number, but it's worth noting that no level of storage insurance will replace the value of sentimental items if they were damaged, lost, or destroyed, so even this figure is arguably too high.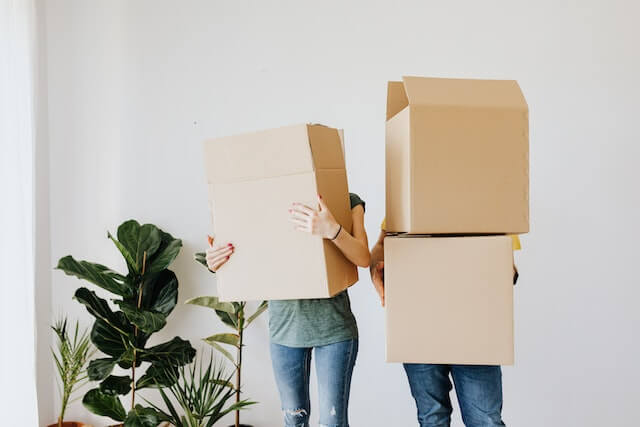 Generational differences
The SSA report revealed that 72% of self-storage users are 40 – 70 years old, and Surewise's report largely reflects this statistic. Generation X are the clear majority mostly using self-storage, with almost a third (32.8%) of respondents falling into the 41 – 57 age group.
Noticeably underrepresented were Gen Z (18 – 25) – just 3.8% of respondents who have used self-storage were in the category.
Gender
More men were currently using self-storage in our survey than women (57% vs 43%). However, a significantly higher percentage of women were planning to use self-storage again in the future (62%), compared to just 37% of men.
Methodology
This survey was commissioned by Surewise and conducted on over 2,900 UK adults in October 2022 via Google Surveys.