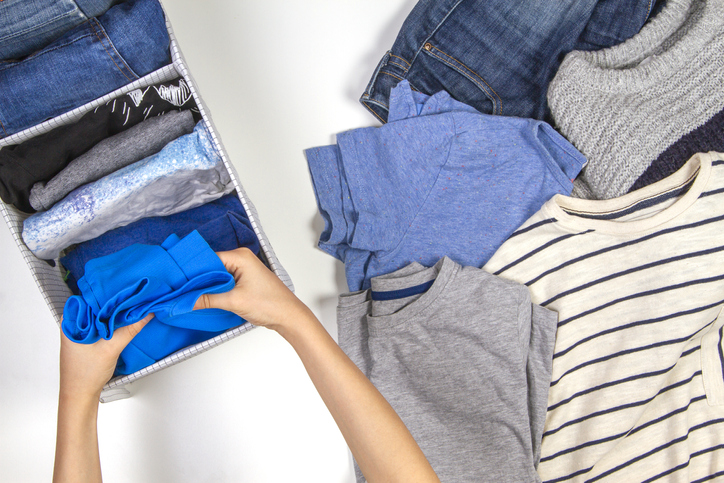 If you're about to pack your clothes for storage, you may be surprised to know that it's not as simple as packing your clothes into a suitcase and leaving them to wait for your return – at least, not if you want to return to clothes that you can wear again!
Leaving your clothes improperly stored can result in them losing shape, growing mould or mildew, or even becoming infested with bugs or vermin. Below, we've listed the best ways to pack your clothes for storage to extend their life and keep them fresh for longer.
Wash & Dry Them
If your clothes are going to be in storage for any length of time, it's important they are clean and dry.
This will ensure they stay fresh and don't contain any of the dirt and damp that vermin and bugs are so fond off!
Preparing your clothes for storage in this way is a great way to sort through your wardrobe and decide what you really want to put into storage – and what is better being donated or discarded now. Don't pay to store clothing that you're never going to wear again.
Wash, Polish & Shine Your Shoes
If you are storing washable shoes such as trainers, it may be a good idea to put these in the wash and check they are completely dry before putting them into storage. Again, this will avoid any odours developing over time, which can be very difficult to get rid of later on.
It's also a good idea to polish your smarter shoes to remove any scuffs and stains, so all your shoes are in pristine condition to be stored away for however long you require. This will lengthen their lifetime and ensure you return to shoes that are still perfectly wearable.
Make an Inventory
Making a list of what you are putting in not only helps you decide what to keep but helps you remember what was packed away (and where!).
Your inventory could include:
A brief description of the item

The brand

The

size

Where the item is stored in your unit
Avoid Vacuum Bags for Long-Term Storage
Vacuum storage bags are great for minimising the amount of space your stored clothing takes up. However, over time, storing your clothes in this way can cause your items to lose shape, and can even damage the fibres in wool and silk.
If you are storing your clothes temporarily for a couple of weeks, vacuum packing your clothes will be fine – but don't leave them packed in this way for long.
Use Plastic Storage Boxes Over Cardboard
Cardboard is easier for vermin, bugs and mildew to infiltrate, so avoid it for storage if you can. Preferable are plastic storage boxes, which not only protect better against damp, but also against the mould and mildew that it can bring.
Store Them in a Cool, Dry & Dark Place
Many storage providers have the ideal cool, dark and dry storage units to keep your clothes fresh and good as new when you later get them out of storage. However, it's definitely a good idea to look around first and make sure the units are what you are looking for – you definitely don't want to end up with a damp unit that ruins your clothes.
Ideally, your storage unit should be no warmer than 23C with a low humidity.
Storing anything of significant value? Acid-free boxed could be useful
Yes, they are more expensive than the plastic storage boxes but if you have some of significant sentimental or cash value, acid-free storage boxes (lined with tissue paper) offer that extra protection.
Don't Forget About Them
An occasional check to ensure they are still in good condition is advised. Even re-fold or re-hang some to help them keep their shape. If you see any unexpected or severed deterioration, you may need to re-assess your storage choice- both the boxes and the facility.
When you store your items in self-storage, you want the peace of mind that their value is covered should anything happen to them.
FAQs
Is it OK to store clothes in plastic containers?
Yes- in fact, plastic containers with clip-on lids provide optimal conditions for long-term clothes storage. Please note, we don't mean plastic bags here- they have the potential to trap moisture, causing mildew and yellowing!
How do you preserve clothes for years?
Airtight plastic-lidded containers offer optimal conditions for storing clothes in, longer term. You can take several other steps too. Storing them clean and dry, as we've mentioned, is a must. And one more top tip for you: if you have them in storage longer-term, you need to go and re-fold them every six months, as some clothes can become permanently wrinkled if left any longer than that (yes, really!)
Our storage insurance will cover you against damage from natural disasters, theft, and more. Click here for a quote for your storage insurance policy today.