Having mobility problems shouldn't mean that you can't get active. In fact, being more active as a wheelchair or mobility scooter user can benefit your health and your daily life.
Whatever physical ability you have, there are always wheelchair exercises and modifications for anyone with limited mobility that you can do to keep yourself active and healthy in your life. Exercise doesn't necessarily have to mean attending the gym or running – it can just be whatever is within your abilities.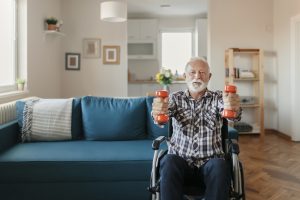 Why Exercise?
Regular activity is great for your physical health, reducing your risk of major illnesses including heart disease, obesity, diabetes and more. Using a wheelchair can put a strain on certain muscles in your body, making injuries and discomfort more likely. Regular exercise can strengthen your muscles and help keep your body fit and able to help you manoeuvre.
Physical exercise can also have a wonderful effect on your mental health, reducing your risk of sleeping problems, depression, and stress. It can also do wonders for your self-esteem and introduce you to new people and new hobbies – all of which are so important if your mobility problems isolate you from society at some points.
What Exercise Can I Do?
The level of exercise you can do is entirely dependent on your ability. However, no matter how much you can do, there will also be some form of activity that suits your level of physical fitness.
A few ideas include low-impact sports that will not to put too much pressure on your body, such as:
Swimming

A wheelchair

yoga sequence

Rowing in a machine adjusted for wheelchair users

A team sport such as wheelchair basketball or netball. Find a

disability sport club

near you.
How Much Exercise Should I Do?
It is recommended that adults be active daily and aim to do at least 150 minutes of physical activity through the week.
However, if you are not used to exercise, you should aim for 10-minute sessions at first and slowly build up your physical ability before doing longer sessions. In your exercise sessions, you should be a little out of breath but still able to hold a conversation.