Self-storage units come in various forms, each with its advantages and disadvantages. If you've been thinking about hiring a storage unit, it can be helpful to first decide what type of facility best suits your needs in order to save money, get the right insurance, and most importantly, keep your belongings safe.
The types of storage facilities in the UK include storage in individual units in purpose-built or converted facilities, shipping containers,  lock-ups and garages, wooden crates, and box storage.
Individual units
Individual units are the most common type of self-storage facility. They are usually located in a multi-unit building and can vary in size, typically ranging from small lockers to larger units that can accommodate the contents of a house.
These units usually offer a range of security protection, including climate control, 24-hour access, and security features like gated access, CCTV, and fire alarms.
As the customer, you have exclusive access to your unit, which is secured with a lock and key. You can typically rent the unit for as long as you need it, choose the size that you need and can easily access your belongings during the facility's operating hours.
Containers
Storage in containers has become a popular choice for self storage due to their versatility and durability. These large metal containers are usually made from weather-resistant steel and are used for transporting goods by sea, road, and rail. When not used for transportation, they are often repurposed for storage purposes.
One advantage of storage in shipping containers is their high security level. Shipping containers are made of heavy-duty materials and are designed to withstand harsh conditions, making them ideal for protecting stored items from theft, damage or weather. Many shipping container storage facilities have added security features such as high fences, gated access, and 24-hour surveillance cameras to enhance security further.
Shipping containers come in standard sizes, making them easy to transport and stack so that they can be placed in almost any location. Additionally, they can be fitted with a range of extras, such as shelving, lighting, and climate control, to make them suitable for storing a variety of items.
However, it's important to note that for storage facilities using shipping containers to be covered under our insurance policies, the location must be a purpose-built storage facility with CCTV, fire alarms, and access to the facility is either given by staff present at the premises or by a secure key code provided to paying customers.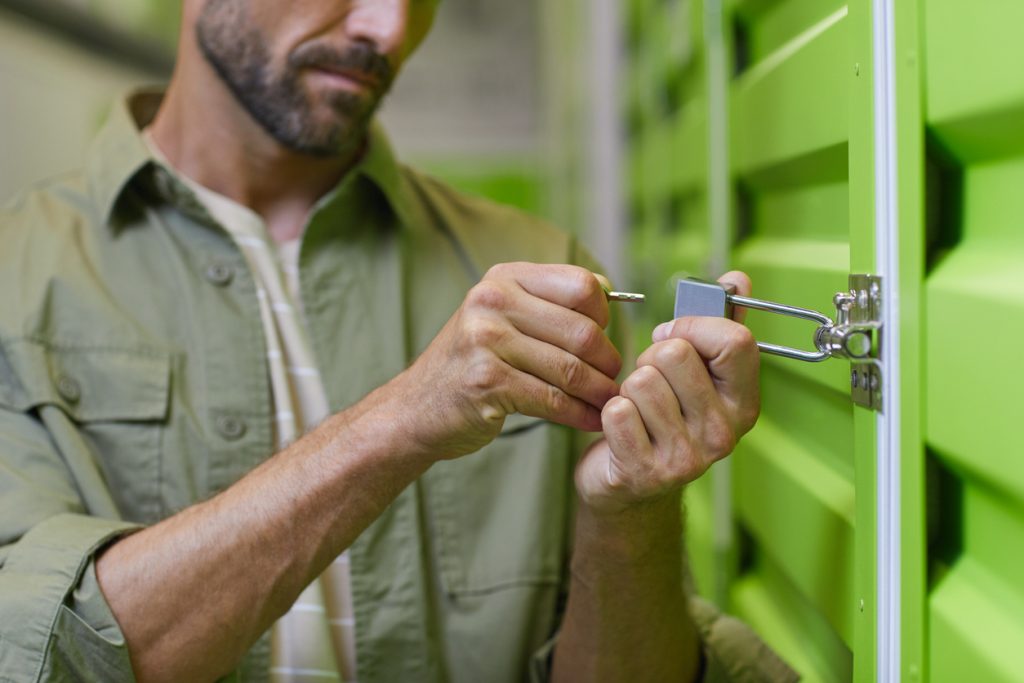 Wooden crates
Wooden crates are another type of storage unit that are commonly used for both personal and commercial purposes. They are often used to store and transport fragile or valuable items, such as artwork, antiques, or electronics. 
They offer good protection against damage during transit and can help to prevent items from shifting or being damaged. They are often used for short-term storage and frequently by removal companies for moving items from one location to another.
Lock up garages
Lock-up garages and sheds can be tempting options for storing items, but they often lack the proper security measures, climate control, and protection from the elements that a purpose-built storage facility provides. Lock-ups and garages are often vulnerable to break-ins and theft and can be affected by fluctuations in temperature, moisture, and humidity, which can cause damage to your stored items over time.
Additionally, lock-ups and garages may not have fire protection systems in place, such as fire alarms and sprinkler systems, to protect your items in the event of a fire. These types of storage units also may not have adequate insurance coverage to protect your items in the case of theft, damage, or loss.
For these reasons, it's important to consider a purpose-built storage facility with proper security, climate control, and insurance coverage for your stored items. These types of facilities provide the peace of mind that your items are protected and secure, and that you have proper coverage in the event of any loss or damage.
Box storage
Box storage is a convenient option for those who do not want to visit a self-storage facility. With box storage, companies come to collect boxes from you, store them at their facility, and return them when you need them.
FAQs
What are the most common types of self-storage?
The biggest storage providers in the UK are Safestore, Big Yellow, and Access Self Storage, all of which mostly have individual units available for short or long term rental. However, the Self Storage Association estimates there to be at least 621 facilities in the UK offering predominantly container storage.
How many self-storage facilities are there in the UK?
As of 2022, there were an estimated 2,050 storage units in the UK – the equivalent of 52 million sq ft.
How much does self-storage cost?
Costs for self storage tend to vary from site to site, and depend on your individual requirements (for example, the size of the unit you need and the length of your rental contract). It's a good idea to get a few different quotes to ensure you're not paying more than you need to.
How much does self-storage insurance?
Surewise self-storage insurance starts from just £13.49 per year but again, the cost will depend on the value of the items you have stored and the length of your policy.
What type of storage should I pick?
What type of self-storage facility you need depends on a couple of things. You need to consider what you are storing, the overall value of the items you are putting into storage (and how well secured you need them to be), how long you need storage for, if you'll want to access your storage unit regularly, and your budget.