When selecting a storage facility for your belongings, there are a number of things you need to consider to find the right company for you. Factors to take into consideration include location, facilities, security, convenience, and, of course, price.
In this guide, we've broken down some of the key things you need to know when finding out how much self-storage costs, plus any hidden or additional charges to be aware of.
Contents:
Self-storage costs vs quality
It's important to remember that the cheapest storage facility isn't necessarily the best facility, so although the cost of self-storage should of course factor into your decision-making, don't let yourself be swayed solely by price.
That being said, it's always a good idea to get a few different quotes and an idea of how much storage costs monthly or annually to be sure you're still getting a fair deal for storing your possessions.
Storage facilities will offer different contracts based on a few different factors, which we've broken down here:
1. Price per sq. ft.
Most storage facilities will have a number of differently sized storage units and will charge per square foot. Typically, the bigger the unit, the cheaper the price per sq. ft.
With this in mind, it's important to work out how big a unit you need. It's also worth taking into consideration whether you are likely to need to add more items to your storage unit in the future or, on the other end of the scale, will be taking items out of storage soon.
If you think you may just be in the cusp of a more expensive bracket, it may be worth assessing your possessions and donating or throwing away the things you are unlikely to actually need after putting them in storage to help you save money.
2. Length of time
Secondly, how much storage will cost is determined by the length of time you need your unit for. Typically, storage facilities will have set fees for a week, month, two months etc, and facilities that offer long term storage may have an annual fee as well.
Storage costs will be cheaper per month the longer your contract is for (e.g. a year-long contract will be cheaper per month than paying for one month at a time without a contract), so it's worth having a good idea of how long you will need your storage unit for in order to give you the best deal.
3. Location
The location of the storage facility will also have an impact on the total cost to rent a unit. Typically, the closer a self-storage facility is to a city centre, the more expensive it is going to be. Essentially, you'll pay for the convenience of having a facility in close proximity.
Likewise, there are considerable variations on price in the North versus the South of the country (with the North typically having lower costs), while London is considerably more expensive than any other location.
4. Value
Finally, you'll also want to consider the replacement value of the items you are storing in your storage facility, as this will add to the cost of your storage insurance.
We found that most customers save almost three times the amount on self-storage insurance when shopping with a third-party insurer such as Surewise, rather than using your self-storage provider directly.
Our policies are designed to be scalable to suit your needs, so make sure you have an accurate idea of the total replacement value of the items you are looking to put into storage to keep your policy valid without over-paying.
Other Things To Consider:
When deciding where to store your belongings, you'll want to bear the following things in mind:
Good location
Size of unit
Security features
Convenience
Time
These features will all affect the price of your storage unit. The more secure a facility is and the more convenient they're services, typically the higher the cost.
The trade-off is that you want a secure, safe facility that has the necessary measures in place to keep your belongings safe. A cheap facility may be able to cut costs because of poor security measures, which not only puts your items at risk of incidents such as theft and fire, but could potentially invalidate your insurance policy.
Deals and offers
Keep in mind that you may be able to save money on the cost of self-storage if the facility you are looking at has deals on. For example, some providers may provide a cheaper monthly discount if you sign up for an annual contract.
Other costs:
Aside from the cost of the storage unit itself, there are other costs to consider when comparing quotes. These costs include:
Insurance
For many self-storage facilities, having storage insurance is a mandatory requirement. However, that doesn't mean you have to purchase your insurance directly through your provider.
Use our quote tool below to get an accurate quote for your needs, starting from as little as £13.49 per year.
Get more information on what's covered with storage insurance, or go straight to getting a quote today.
Monthly vs Annual Payments
Many businesses provide a discount for annual payments over monthly payments. If you know that you are going to need your belongings stored for a considerable amount of time, consider paying the annual fee to cut down costs.
Transport
Does the self-storage facility provide a transport service to get your belongings to the facility? If not, you will need to add in the additional cost to hire a moving van if required.
Quality
If you have a number of valuable possessions you need to put into storage, the quality of the company you go with will be an important factor. You'll want a facility with units that are raised off the ground to avoid damage from damp or flooding, perhaps climate-controlled units, excellent security features, and limited access to the public.
The higher the quality of self-storage service, the higher the price you'll be required to pay – but for the sake of ensuring the safety of your belongings, it may be worth it.
The cost of self-storage depends on many variables related to both your needs and the facility that offers self-storage units. The best way to get an accurate quote tailored to your requirements is to find your local self-storage companies nearby, and contact them directly for a free quote for their self-storage services.
Benefits of Storage: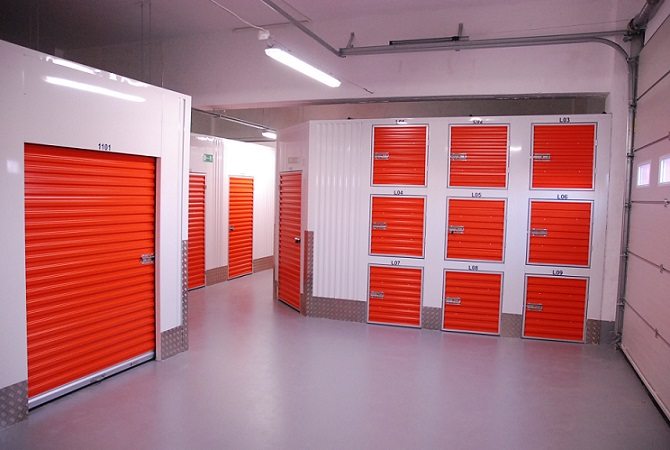 Whether you need to declutter your home to move house, store some belongings for an extended trip abroad, or are going to study at University for a year, there are many reasons to use self storage.
In this article, we're going to take a look at the biggest benefits to using self storage, and the typical prices you'll be looking at to store your belongings.
Declutter
Self-storage is a great option for when you're looking to declutter your home, but aren't ready to let those belongings go altogether. This is perfect if you're renovating your home, downsizing, or need to make room for an expanding family.
Security
Self storage facilities are typically very secure places to store your belongings for a short or long term period. More often than not, a self-storage facility will offer more security than a garage or alternative private storage unit. These is because these facilities have a range of security features including CCTV, patrols, inventory lists, and more. You should check the features of the facility you consider first as they may differ from site to site.
Insurance
Storage insurance will mean your belongings will be replaced should they be stolen or damaged while stored in your unit. This insurance can often be more cost-effective than home insurance, so do your research first to see what suits your budget better.
For many self-storage units, you are required to have storage insurance, which will protect the contents of your unit.