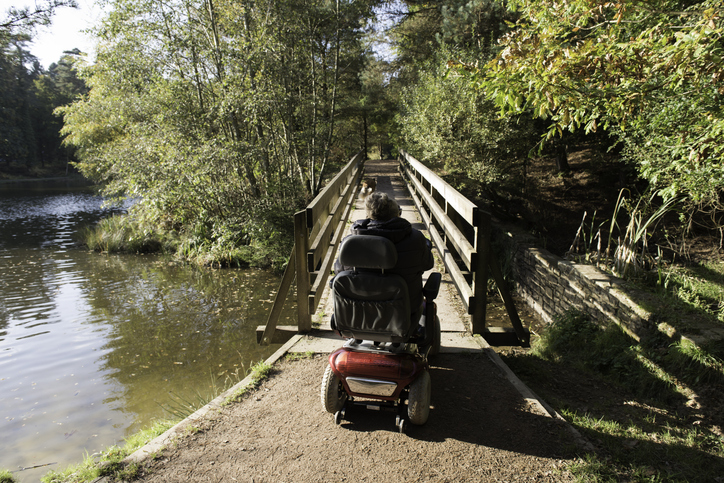 Thinking about investing in a mobility scooter? You wouldn't be alone – it's thought that around 350,000 mobility devices are used in the UK, with around 80,000 scooters sold every year.
Here at Surewise.com, we've seen firsthand how a mobility scooter can transform a person's life for the better. The up-front cost of the scooter itself and a small monthly fee for insuring your scooter and yourself against accidents is a small price to pay for the benefits a scooter can add to your life.
If you're still on the fence, here we've highlighted some of the major ways a mobility scooter could really change your life for the better.
Provide relief for people who struggle with mobility issues
There are any number of reasons why you may need a mobility scooter. Limited mobility affects a lot of people but having the use of a mobility scooter brings relief and peace of mind to those that struggle with mobility issues.
Mobility scooter owners can now regain some of their independence and can travel to and from the shops, visiting friends or family or even just going out to get some fresh air.
Increased accessibility
Modern mobility scooters are brilliant for everyday use and with shopping centres and public spaces constantly improving accessibility, it's becoming much easier for mobility scooter users to access these kinds of places. Another benefit is that portable mobility scooters can usually be taken on public transport as well.
Portable or fold up mobility scooters can also help people if they are travelling abroad, which again, increases users accessibility and greatly improves their way of life.

There are several other reasons why you or a member of your family may have a mobility scooter, like recovering from surgery. Owning a mobility scooter limits the physical exertion needed to manoeuvre around. This freedom can also help alleviate stress that comes from having surgery and would in turn help with the healing process.
Simple to operate
Certain mini/portable boot and mid-range mobility scooters can often be assembled in seconds. The majority of mobility scooters are incredibly simple to manoeuvre and operate, wherever you choose to use them. You can recharge the batteries from the comfort of your own home.
You don't need a special license to drive a mobility scooter, either – although there are safety courses you can take to brush up on the rules and regulations in the UK.
Greater Independence
Mobility scooters are ideal for those that tire easily. It is essentially an electrical vehicle that permits you to venture out and about without the utilisation of an assistant or carer.

A mobility scooter can transform the life of someone with mobility issues, providing the greater independence and freedom of movement that so many people lose. In turn, this not only has the advantage of enabling those with mobility issues to get out and about on their own, but it can also have a tremendous impact on their mental health.
A Scooter for Every Need
Everyone is different and we all have different requirements and needs. There is a range of mobility scooters available so there should, essentially, be something out there for everyone.
• Mini/portable scooters are the smallest and most practical sort of mobility scooter available. They are very lightweight and designed for everyday use, making them ideal for days out trips to the supermarket. These are also perfect if you are travelling abroad, and would make any time spent at the airport much easier and more comfortable.
• Mid-range scooters are a medium-sized scooter designed for extended journeys and suitable for either indoor or outdoor use. Larger than their mini counterparts, comfort and flexibility come from robust suspension to handle rough terrain, a totally adjustable chair, and pneumatic tyres as standard.
• Road legal (class 3) are the largest and most comfortable mobility scooters that are on the market. All road-legal mobility scooters have lights, indicators, horn, and rear-view mirrors. However, you do not need to have a driving license or insurance for your mobility scooter, even if you do use it on public roads.
There are a number of specialist mobility shops that can help you with your search for the perfect mobility scooter, Age UK and also your local councils could also be of assistance.
Insuring your scooter
Mobility scooter insurance may not be a legal requirement in the UK, but it is strongly recommended to protect your scooter from accidents or theft, and to protect you and any third parties should something happen while you are out and about.
Our mobility scooter insurance is fairly priced, has no hidden fees, and is available either paid monthly or annually.