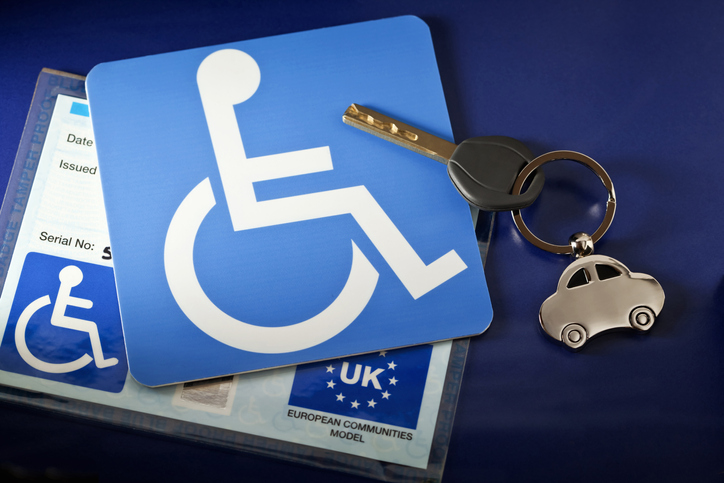 What is the Blue Badge scheme?
Since 2000, people with severe walking disabilities have been granted a Blue Badge from the Government via their local Council to allow them, or their designated driver, to park closer to shops and other public places such as government offices, libraries and hospitals.
The Blue Badge Permit isn't assigned to any particular mode of transport so as long as the Blue Badge holder is present, it can be used in any vehicle
The scheme was introduced to provide ease of access to people with severe walking disabilities, and in 2019 this equated to 4.1 of the population in England alone.
How much is the Blue Badge?
There's a maximum charge of £10 for the Blue Badge in England and Northern Ireland, although in Scotland the maximum charge is £20 and in Wales it's totally free.
In London, Blue Badge holders are able to get an exemption from congestion charges although there is a one-off £10 administration fee upon application.
Who can get the Blue Badge?
Some people are automatically eligible for a Blue Badge. If you have been certified as having a serious disability, which means you are unable, or find it very difficult, to walk, if you're registered as blind or receive any of the following benefits:
Disability Living Allowance (mobility section)
Personal Independent Payment (PIP) (restrictions apply)
War Pensioners' Mobility Supplement Payment
For other medical conditions, you may be eligible for the Blue Badge but an assessment will need to be carried out by your local authority to assess how severe your disability is. You will need to contact your local council who will give you an assessment to see how severe your disability is.
You may also be entitled to a Blue Badge if you;
can't make a journey by car without there being a risk of harm to yourself or another person.
can't make a journey without it causing psychological distress to yourself
have substantial difficulty in walking
have a permanent disability that stops you from using parking meters.
The Blue Badge scheme in England has been extended now to include those with "non-visible" disabilities such as autism, epilepsy, Parkinson's Disease, dementia and arthritis.
You can read more about this change to include hidden disabilities here.
How to get a Blue Badge
For more information and guidance on how to apply for or renew an expired Blue Badge go to the government's website GOV.UK
How do I use my Blue Badge?
When you receive a Blue Badge, it should come with all the information you need which explains how to use it. This information is also available to download on the gov.uk website.
When you receive your Blue Badge you must:
Display your Blue Badge clearly on the dashboard of your vehicle.
Ensure the side with the photograph is facing down and that the side with the hologram is showing and is clearly visible.
Some Council's in the UK provide a "parking clock" which is a cardboard dial where you can indicate your arrival time. This clock is predominantly used to cover you when parking on yellow lines or where time restrictions apply.
Where can I park with a Blue Badge?
Single and double yellow lines
There is a time constraint of 3 hours when parking on single and double yellow lines but this does NOT apply to the yellow lines in off-street car parks.
On-street parking bays where parking meters and pay and display parking rules apply
On-street parking bays for the disables; you are allowed to park in these bays free of charge. Some areas may issue time restrictions in these bays so you would need to display the "parking clock" which was mentioned previously.
Are Blue Badge rules nationwide?
Some places in England may have different disabled-parking rules that may apply, for example;
hospitals, local authority car parks, some supermarkets and airports.
Red Routes in some London boroughs with single or double red lines.
private access roads, where you need the owner's permission to park.
If you have any concerns about where you can and cannot park the best thing to do is to contact your local authority before you travel, just to be on the safe side.
How do I find disabled parking spaces?
There are numerous tools available online which you can use to find disabled parking spaces.
BlueBadgeParking.com is an online map that allows you to search for disabled parking spaces by postcode.
The Disabled Parking Accreditation scheme provides a list of car parks that provide accessible facilities for disabled people.

There is also information on the government website; how to find parking spaces if you have a Blue Badge.