Winter presents a number of new potential hazards and dangers for mobility scooters, ranging from less visibility to snow and ice on surfaces. In this guide, we've covered some key tips for staying safe on your mobility scooter in the colder months of the year.
When you're out and about running errands this winter, keep our tips below in mind to make sure you're staying safe when you're tackling the cold.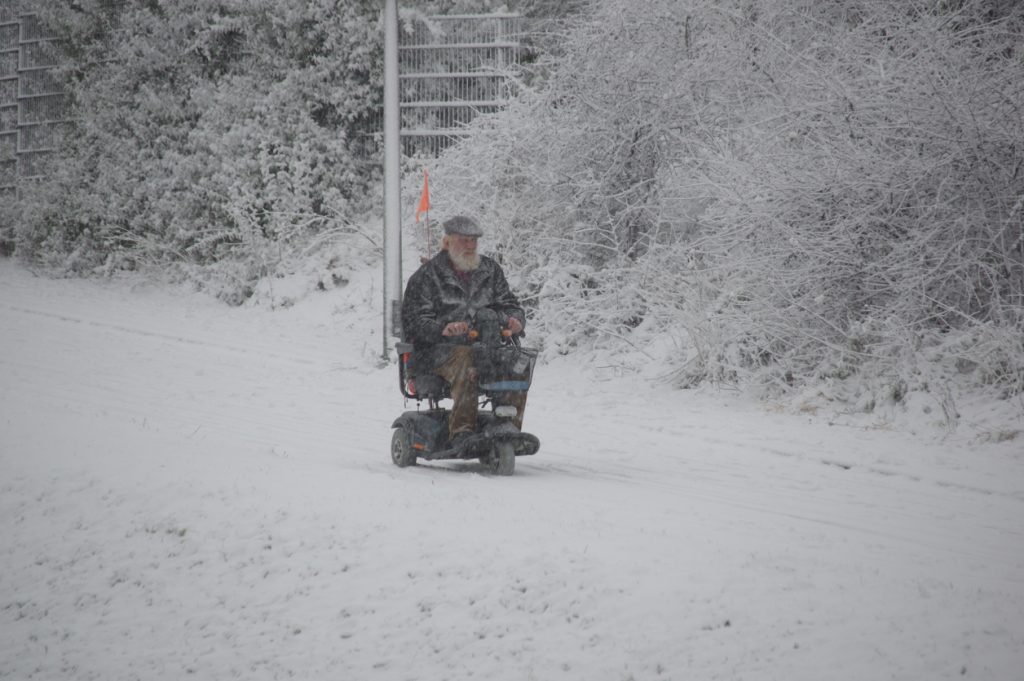 Skip down straight to the Winter Safety Tips.
For additional peace of mind, mobility scooter insurance provides cover for things such as theft, vandalism, and accidental damage. Find out more and get a quote today, starting from as little as £3.80 a month.
What Are The Hazards Of Using My Mobility Scooter in the Winter?
Here's a list of potential hazards when using a mobility scooter in the winter:
Icy or Slippery Surfaces: Frozen rain, ice, and compacted snow can make pathways and roads exceptionally slippery, increasing the risk of accidents.

Reduced Visibility: Shorter daylight hours, fog, mist, and snow can hinder visibility, making it difficult for the user to see and be seen.

Cold Weather: Prolonged exposure to cold can lead to hypothermia, especially for elderly users or those with certain health conditions. It's essential to dress warmly and in layers.

Battery Drain: Cold temperatures can reduce the efficiency of the scooter's battery, leading to reduced travel distances between charges.

Snow Accumulation: Snow can block the scooter's path or get lodged in its components, hindering its operation.

Reduced Tyre Traction: Cold and wet conditions can reduce the grip tyres have on surfaces, making it easier for the scooter to skid.

Uneven Surfaces: Snow can hide obstacles like curbs, potholes, or debris, increasing the risk of trips or accidents.

Water Ingress: Melting snow or sleet can cause water to enter the scooter's electrical systems if they're not adequately sealed, leading to malfunctions.

Salt and Chemicals: Councils often use salt and other chemicals to de-ice roads and pathways. These can corrode the metal parts of the scooter over time.

Increased Mechanical Strain: The scooter may need to work harder in snowy or icy conditions, leading to increased wear and tear on its parts.

Clothing Restrictions: Bulky winter clothing might restrict the user's movement, making it harder to operate the scooter safely.

Reduced Response Time: Cold weather might slow the user's reaction time, making it more challenging to respond quickly in emergencies.
When using a mobility scooter in winter, it's essential to take extra precautions, regularly service the scooter, and be aware of the local weather conditions before heading out.
6 Tips for Staying Safe on Your Scooter in Winter
1.
Avoiding Ice
Driving when the roads are covered in ice can be extremely dangerous for all drivers, so avoiding the roads at this time is the best practice. However, we know that sometimes staying in the house to wait out the weather is simply not an option, so in this case, try following these tips:
Avoid steep hills and particularly icy surfaces

Make yourself visible

Watch out for other hazards (including other drivers and cars!)

Go slow

(find out what speed limits and other road rules apply to mobility scootes).
You may get to your destination a little slower than usual, but taking a little more time is a small sacrifice for staying safe on the ice.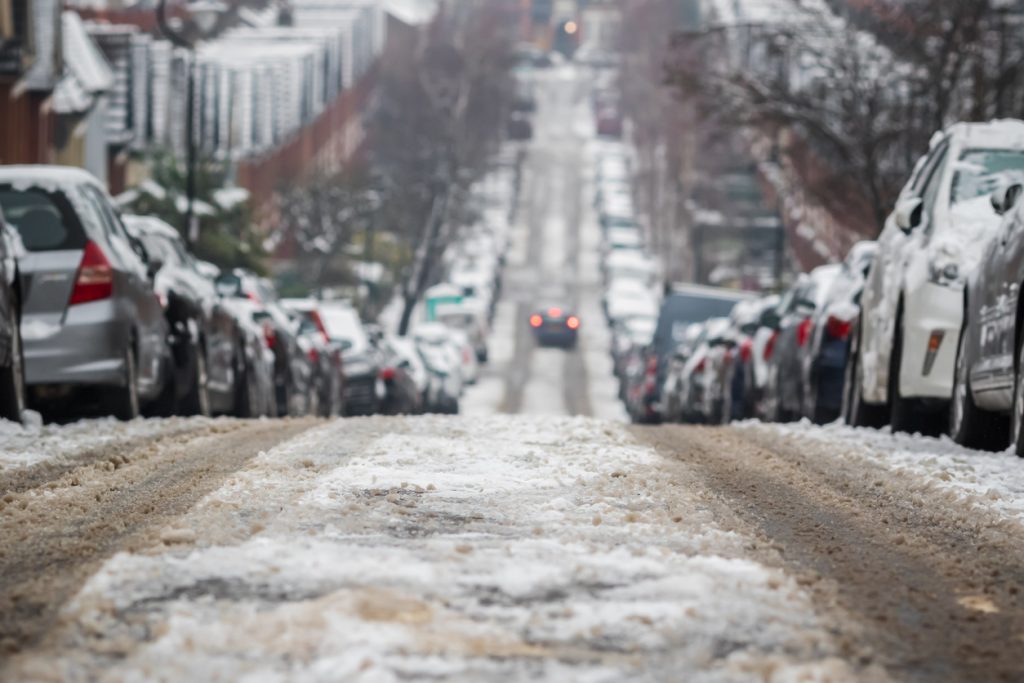 2.
Stay Visible
With the sun rising and setting much later in the Winter, it's more important to keep yourself visible to both drivers and pedestrians when you're out on your scooter.
Using a high-visibility jacket can be a good idea, as is installing safety lights on the front and rear of your scooter to ensure you stay seen no matter what the light level is throughout the day.
3.
Keep it Clean
Keeping your mobility scooter clear from dirt and dust is the best way to ensure it stays running perfectly throughout the cold months when a breakdown can be a disaster!
This especially includes things such as salt and other chemicals that are used to grit the roads when there has been ice or snow – this can quickly erode the metal on your scooter so be sure to wipe it down after you've been out.
To keep your mobility scooter in great condition, wipe it down after use to clear away any build-up of dirt and dust. Likewise, if you have been out in the rain, dry your scooter before putting it away in order to prevent it from rusting.
4.
Accept the Extras
When you first buy a mobility scooter, there are many extras you can get to make life that bit easier when out driving in different seasons.
A few of these extras can include a rain protector, safety lights, and a high-visibility jacket – all of which can be very useful for keeping your mobility scooter and yourself safe this winter.
5.
Stay Charged Up
Taking care of your mobility scooter battery is the best way to ensure you maintain an adequate charge when out and don't end up breaking down in the cold!
The winter can be the worst for draining your scooter's battery, so make sure you store it in a dry place (not too cold, not too warm!) when not in use, and put it on charge overnight and after each use to keep the battery topped up and ready to go whenever you need it.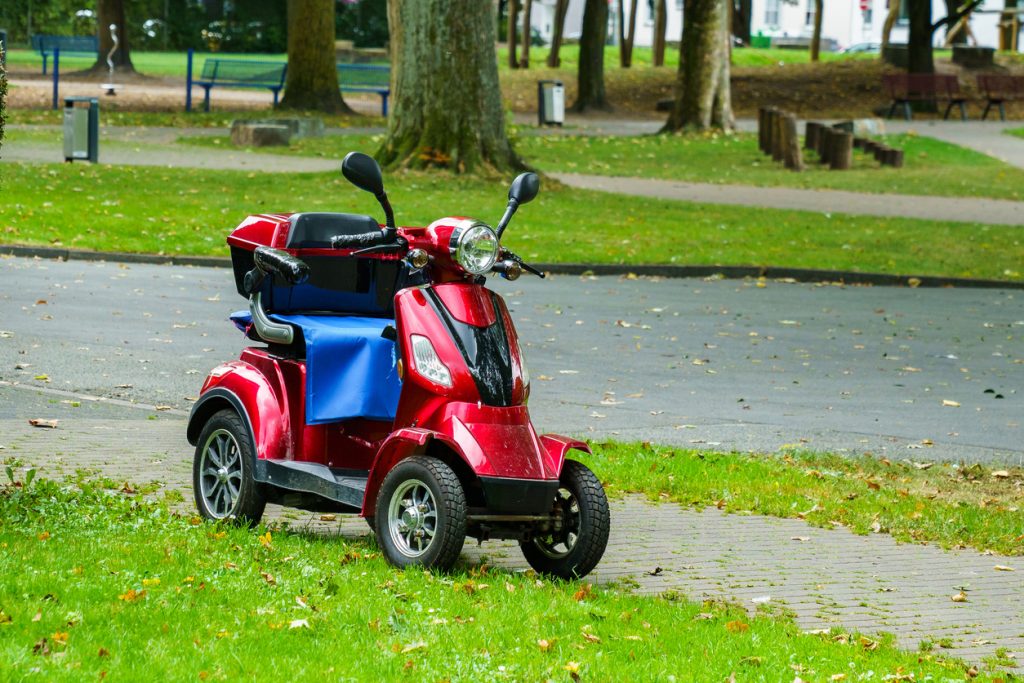 6.
Wheel Maintenance
As the sole point of contact with the ground, the condition of your scooter's wheels should be your absolute priority in the colder months. Check your scooter to make sure the traction is still in good condition to avoid slipping or sliding if out on frosty surfaces.
Likewise, checking your tyres are adequately inflated is important all year round – but pay additional attention to this as the cold approaches to ensure they stay pumped up and ready to take on the frost!
Enjoying yourself is just as important in the winter, but taking precautions against the cold when using your mobility scooter is essential in order to keep yourself safe.
Go slow, stay visible, look out for hazards before setting off, and make sure you wrap up warm to keep yourself safe – and the lives of those around you – this winter.
For additional peace of mind, mobility scooter insurance provides cover for things such as theft, vandalism, and accidental damage. Find out more and get a quote today, starting from as little as £3.80 a month.