Seeing water suddenly start dripping from your ceiling during a particularly torrential bout of rain is never a welcome sight, but the good news is the sooner you spot a water leak, the sooner you can get it fixed!
The methods of dealing with a major leak and a minor leak are very different – below, we've listed the first steps you should take for each. Unfortunately, leaks are a nuisance that can happen totally unexpectedly – but knowing where leaks are most likely to spring from can help you to prevent damage done to your home.
Most common water leaks can come from:
Dripping taps
Water leaking underneath the sink
Leaking boilers/ hot water tanks
Roof leaks – especially around roof vents or damaged tiles
Toilet
Leaky faucets and showers
Radiators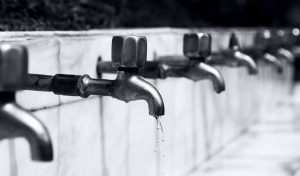 Minor Leaks
1) Deal with the Water
If water is dripping from your ceiling, get a bucket and locate it under the drip to collect the water. This will save from any real damage to your flooring! It's a good idea to raise the bucket off the ground to get it closer to the leak if possible, reducing the amount of water that splashes out and onto your floor.
2) Find the Leak
You'll need to locate the leak in order to identify the problem. If you're lucky, it will be right above where the water is pooling in your ceiling, but you may also need to check vulnerable areas such as your chimney or lines around vents.
3) Temporary Repairs
If the rains still coming down, making a temporary repair is the best way to reduce the amount of water getting into your home and doing further damage to your ceiling and floors. Temporarily patch the leak in your roof to stop the water coming in before your roofer arrives.
4) Call a Roofer
A minor leak can easily turn into a much more serious problem, so call in the professionals and keep the leak fixed properly. You'll be thanking yourself the next time there's a thunderstorm and your roof holds strong!
Just so very easy to use site and my insurance was done in seconds



Major Leaks
Major leaks are a much more serious problem in the home, and can quickly cause your home to flood if not dealt with immediately. Take these steps as soon as you notice a major leak in your home before calling a professional:
1)Turn off the water source
Stopping the flow of water is essential in a major leak – and identifying where the leak is coming from so you can turn it off as quickly as possible will ensure you reduce the damage done to your home. Your water shut-off valve will be located in a different area depending on the structure of your building. Here are a few things to remember:
– Basement
If your home has a basement, the main shut off valve will typically be by the front foundation wall within 5 feet of where the water enters your home.
– Basement with Crawl Space
The main shut off valve may be in the crawl space in this circumstance
– Slab foundation
In homes with no basement or crawlspace, the water shut off valve will typically be under the kitchen sink or near the water heater
Finding the Outside Water Valve
If you can't turn off the water supply using the internal stop valve, you may need to turn it off with the outside stop valve, also known as the stopcock.
The stopcock will typically be located near the boundary of your home, and in the same chamber as your water meter (if you have one). Bear in mind that not all properties have an outside stop valve fitted on them.
Once you've located the stop valve, turn it clockwise to close and shut off the water supply to your home – preventing any further damage being done to your property.
2) Contact Your Insurance
Most home insurers protect you against accidental damage caused by flooding, so contact your agent to ensure you are covered and take the right steps to claim for any damage caused by the leak.
3) Call a Professional
A major leak is a big deal, and needs to be dealt with by a trained professional. Trying to deal with a problem like this yourself could result in more damage to your home, and even voiding your insurance policy!