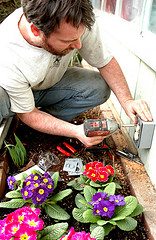 When some electrical wiring in your home goes phut, it can be quite tempting to try a quick DIY fix using pliers and insulation tape. This is, of course, an exceptionally bad idea because not only could you bring down your house's whole electrical system but you could also die (according to Electrical Safety First, 70 people die and over 350,000 are seriously injured in electrical accidents every year in the UK).
A far better idea is call a professional electrician to come and fix the problem.
First of all, you should only use a registered electrician. Electrical Safety First has found that 25% of UK adults don't use registered electricians and 33% will hire an electrician without checking their credentials based on a recommendation. Doing so places your family at risk and increases the chances of your house going up in an electrical fire. There are four recognised organisations in the UK the register professional electricians and provide a complaints procedure for customers.
British Standards Institution (BSI)
ELECSA
National Association of Professional Inspectors and Testers (NAPIT)
NICEIC Certification Services
These organisations will also help you find registered electricians in your area or you can use the Electrical Safety Register.
Even if you find an electrician from any of these organisations, you should still ask to see the person's registration card and even call the organisation to verify it. Properly registered electricians will be only too happy to give you their details so you can verify their credentials. You should take it as a warning sign if an electrician takes offence or is reluctant to comply.
(Note: This also applies to gas engineers, who must be Gas Safe registered.)
It can be tedious but it's also a good idea to get quotes from several different electricians. Compare every aspect of each quote because there might be hidden costs or optional extras in one that aren't in others. You're not necessarily looking for the cheapest; you're looking for the best value for money.
If the electrician you've chosen has other staff members who might handle the call out, make sure you get their details too, so you can also verify their credentials and qualifications.