Surewise provide home insurance and mobility scooter insurance to thousands of customers around the UK, and we also provide carers insurance to self-employed carers, personal assistants, and direct payment-employed carers.
As such, we're in touch with people who either have limited mobility, or are caring for someone who has a disability, on a regular basis. We know what a difference mobility aids can make in your home.
As a provider of comprehensive home and contents insurance for households all over the UK, this guide will address whether your mobility equipment to help you around the home is covered by your home insurance policy. Mobility equipment can include anything someone who is disabled or has limited mobility might need to install in their home to make it easier to live independently and safely.
---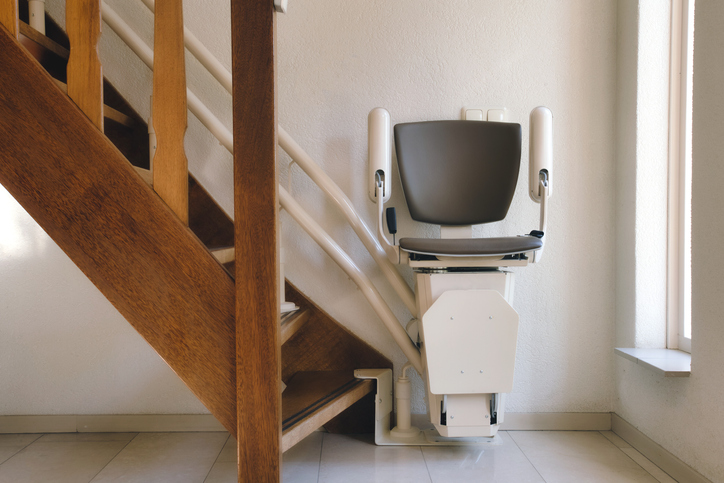 If you are a wheelchair user or have mobility issues, it makes sense to want to adapt your home to make your daily routine as comfortable and hassle-free as possible. Aids such as stair lifts, bathroom hoists, widened doorways etc can all have a great positive impact on day-to-day life, but are these aids and adaptions covered by your home insurance policy?
Mobility aids can include items such as:
Stair lifts
Bathroom hoists
Handrails
Electric beds
Bath seats and grab bars
Commodes
Visual telephones
Pick-up sticks
Disability stools
Adaptive technology such as tilt-to-pour kettles and voice-activated alarm clocks
Having mobility equipment and aids to assist with living a more independent lifestyle can add up to a lot of expensive equipment in your home, so ensuring that these items are covered by a valid insurance policy is a smart precaution to take should anything happen to them.
Are Mobility Aids Covered by Home Insurance?
Mobility aids such as bathroom hoists, electric beds, and adaptive technology may be covered by your home contents insurance policy as a personal belonging. These items may be covered against damage or breakage due to an incident such as theft, fire, or vandalism.
It is a good idea to contact your Home Insurance provider and ensure you have updated your policy to confirm that these items are covered under your Contents Insurance policy should an unexpected incident occur in your home.
Are home modifications covered by home insurance?
Home modifications include changes to the structure of your property such as:
Widening doorways
Putting ramps into your home
Installing a stairlift
Renovating your home to put in a walk-in shower, wet room etc
In most cases, these types of home modifications will be classed as fixtures of your property, which means that they will be covered by your buildings insurance. You may need to contact your home insurance provider to notify them that these changes are being made to your existing property.
Stairlift insurance
Stairlifts can be an expensive modification to add to your home, so some households choose to take out separate stairlift insurance. Stairlift insurance will cover you in the event of your stairlift being damaged, stolen, or vandalised.
This could include things such as fires or flooding, accidental damage, or vandalism/theft.
Is my mobility equipment covered by my home insurance?
Mobility equipment could include items such as:
Wheelchairs, walking frames, crutches etc
Mobility scooters
Medical equipment
Devices to assist with sensory disabilities
As standard, most home contents insurance policies will not cover mobility scooters or other Motability vehicles. Our mobility scooter insurance is designed specifically for this purpose, providing you with the peace of mind that you and your scooter are covered when out on the roads should anything happen.
Medical equipment, however, should be covered by your home contents insurance policy if it is stored in your home. You will want to discuss the details with your insurance provider and check if you need additional accidental damage cover to be sure you are fully insured should you need to make a claim in the future.
Getting the right cover for you
It's important to take the time to make sure that any insurance policy you are purchasing providers the right level of cover that you need. There's nothing worse than needing to make a claim only to discover that your policy is invalid for one reason or another.
If you've had a look through your policy documents and still aren't sure if your mobility equipment is covered, get in touch with your home insurance provider directly to discuss your individual requirements.