When you take out one of our home insurance policies, we'll ask you a few key questions to get your quotation right. In order to answer them correctly and tailor your cover to your specific needs, you may find this guide to common locks rather handy.
Why am I being asked to give such granular information?
In order to offer you home insurance or home contents cover, insurance companies perform a risk assessment to determine the cost of your policy as well as your cover level. The type of lock you have on your door will give us an indication on how secure your property is, much in the same way that a locked garage or the presence of camera surveillance indicates the safety of your vehicle to a car insurance provider.
What is a 5 Lever Mortice Deadlock (conforming to BS3621)?
Fitted to wooden doors, it is locked from both the inside and outside with a key.
Look out for the following:
It is fitted within the material of the door, rather than the external surface.
If it is BS3621 approved, it will not normally require a night-latch.
Look for the British Standard Kitemark (BSI) on the faceplate of the lock when the door is open.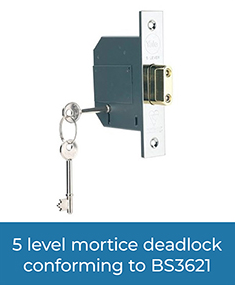 What is a Key-Operated Multi-Point Locking System?
Installed into the door itself and locks into the frame.
Look out for the following:
At least 3 (and up to 5) bolts lock into multiple points in the door frame.
They are normally installed in UPVC and composite entrance doors, as well as French doors.
You often turn up the door handle to lock it.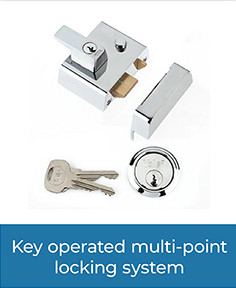 What is a Rim Automatic Deadlatch?
Fitted to the outside of your door and it will not be the only lock on your door.
Look out for the following:
It is often paired with a nightlatch (see below).
Locked and unlocked from both sides with a key inserted into the rim cylinder.
You can easily lock yourself out if you don't have a key with you.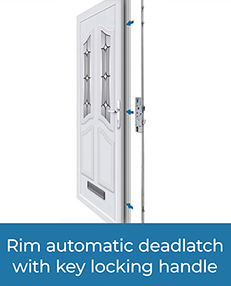 What is a Euro Cylinder Lock?
This is one of the most common locks in modern homes, for external front and back doors.
Look out for the following:
It is used with multi point locking systems.
The system is also fitted to some mortice deadlocks and sashlocks.
Often fitted on timber and aluminium doors.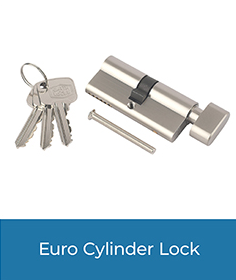 What is a Yale Night Latch?
Usually found on the front doors of the home.
Look out for the following:
They are mounted to doors that open inward and onto the inner surface of the door rather than on the edge
When the door is closed the latch automatically locks the door.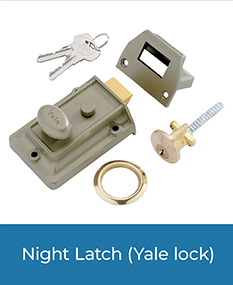 Still confused? View our visual guide below or give us a call on 01268 200 020 to speak to an agent.