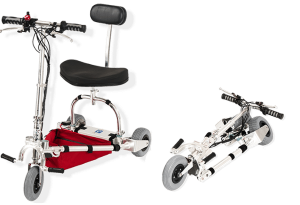 Whether you're ageing gracefully and want to maintain your independence or need something that will enable your child to stay independent through a difficult illness or injury, there are mobility scooters to meet your needs. The mobility aid industry in the UK is growing exponentially. So now mobility scooter manufacturers produce lighter, more luxurious, and hardier models so you can do all the things you love.
Best Mobility Scooter Manufacturers
Let's take a look at some of the best mobility scooter manufacturers in different categories. These include lightest, smallest, fastest, most portable, easiest to fold, most heavy duty and best for outdoors.
Best light mobility scooters
TravelScoot boasts that it has the lightest and most compact electric mobility scooter in the world. The scooter comes in a standard size for adults and a junior size for children and short-statured people. The handlebar and seat are height-adjustable, making them customisable for all shapes and sizes. It weighs 30 lbs without the battery. You can drive it with your leg in a cast and place your crutches in the stand.
The 3-wheeled scooter folds to fit a 2-wheeled scooter's dimensions. You can set it up or dismantle it in less than 60 seconds. It takes up very little space, so is convenient to use and store. TravelScoot's mobility scooters can be used on public transport, including rail, air, ship and bus. You can get a lot of mileage out of the battery, and natural speed limitations (6 kph / 3.7 mph) increase your safety when out and about. Parents can programme speed settings, so their child never goes faster than walking pace.
It's easily manoeuvrable, allowing you to turn in a very confined space, like a lift.
SupaScoota also claims to be the lightest mobility scooter in the world. It can be used outdoors on rugged terrain and indoors. Its size makes it ideal for use on the bus, train and ship and in public places, including supermarkets. The 12-volt battery has in-car charging capabilities. The scooter is stripped of bells and whistles, but you can customise it with padded armrests, shopping baskets, and crutch holders.
Two models are available, the standard model which is small and lightweight, and a larger version. It weighs just over 40 lbs with the lithium battery. It folds quickly and can travel at a maximum of 7.7 kph (4.7 mph).
Looking for Mobility Scooter Insurance? – Cover for Accidents, Theft, Puncture Repairs and Recovery –
Click Here
for a quote!
Best small mobility scooters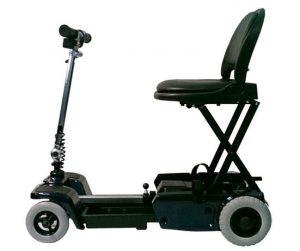 Pack-a-scoota claims to have the smallest portable 4-wheel scooter in the UK. It folds in a small suitcase-sized package (only 2ft long and weighing 49.6 lbs) which is easy to transport. Its maximum speed is a safe 5 mph.
Mobie mobility scooter is small, light and portable. It takes only 5 seconds to fold up into a compact suitcase-sized trolley, which you can easily wheel around and store. You don't even have to dismantle the scooter to fold it up, as there are no removable parts. It's small and light, but it will take you over uneven terrain when you need it to. On-board and off-board charging options are available.
The scooter can travel 10 miles on a fully-charged battery or 20 miles if you travel with an extra battery pack. Its maximum travel speed is a safe 4 mph. The standard scooter doesn't have a lot of luxury features, but you can add armrests and a travel bag to your package.
Best fast mobility scooters
Mobility scooters aren't allowed to travel faster than 8 mph on the road, according to law. However, that hasn't stopped manufacturers from creating scooters capable of greater speeds. Make sure you're up to date on the UK mobility scooter rules and regulations.
E-Wheels EW-36 is a high-powered 3-wheel scooter that can go like the clappers – relatively speaking. Its top speed is 18 mph, and its battery will take you an impressive 45 miles. The EW-36 occupies both sides of the speed spectrum, as it can be programmed to travel at a very, very low ½ mph.
It boasts dual rear shock absorbers and E-ABS front and rear braking. It also has luxury features, including a deluxe seat, safety belt, armrests, built-in anti-theft alarm, and anti-tippers, so you have a stable ride, no matter what the terrain. It's not light, though, coming in at 200 lbs.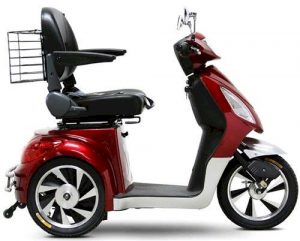 Epizontech EMS-48 electric mobility scooter is a 3-wheel beauty which is capable of travelling at 20 mph and reaching up to 45 miles per fully-charged battery. It has an E-ABS braking system, weighs a whopping 400 lbs and comes with an electronic alarm system and two rear shock absorbers. There is a compartment under the seat where you can stash your bag or jacket or shopping.
Best heavy-duty mobility scooters
The TGA Breeze S3 boasts all-round suspension and shock absorbers and is capable of carrying loads up to 31.4 stone (440 lbs). There are different battery upgrades available so that you can increase your range. It has a fully adjustable seat, and virtually every other feature is also adjustable for your convenience. Vision is not a problem with LED front and rear lights, while indicators and a horn enhance the vehicle's safety.
The Drive Royale 4 is a great heavy-duty mobility scooter with a range of 32 miles, LCD display and Intelligent Diagnostics. It boasts front and rear suspension, large tyres for stability and safety and ergonomic sliding, reclining and rotating seat. The headrest is adjustable, and you can get a rear pannier if you want extra carrying space.
Best outdoor mobility scooters
If you want something to provide reliability and protection when you have to travel outdoors, then try the Shoprider Teveso – it has a rustproof cover to keep the rain off your head and your shopping. You can open the windows when the roof is up and even remove the doors so that just your head is covered. It boasts windscreen wipers and rear view mirrors so you can see all around when the cover is up. The seat swivels and has a headrest for your comfort; full suspension ensures you are comfortable off-road and on-road.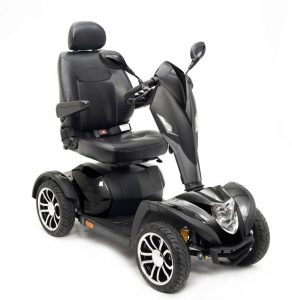 The Drive Cobra GT4 Heavy Duty 4-Wheel Power Scooter boasts rear-view mirrors, anti-tip wheels and a deluxe Captain's seat for maximum comfort. The ergonomic handles are easy to manoeuvre, so even elderly folks with waning strength can travel with ease. Hazard lights, LED panel, indicators and reflectors all make for enhanced safety.
Best portable mobility scooters
Pride Go Go Elite Traveller 3 is one of the most renowned portable mobility scooters on the market. The top speed is a safe 4 mph, it's lightweight, easy to transport, and user-friendly, so you don't need an engineering degree to fold it down or set it up. The seat is fully adjustable and so is the tiller. It offers maximum manoeuvrability, especially in confined spaces.
CareCo Airlite Travel mobility scooter is the lightest in CareCo's range and easy to break down (simply pull a lever) into 5 compact pieces and transport. It has a range of 8 miles per fully charged battery and has a maximum carrying capacity of 252 lbs. It comes with puncture-proof tyres, a carry basket and an adjustable tiller.
Looking for Mobility Scooter Insurance? – Cover for Accidents, Theft, Puncture Repairs and Recovery –
Click Here
for a quote!
Best folding mobility scooters
Pro Rider Easy Fold mobility scooter is an affordable option that is easy to take on public transport and which boasts some luxury features, including a padded seat, armrests, fold-down backrest, and puncture-proof tyres. The total weight is 86 lbs, and it folds down into a convenient suitcase size for storability and transport.
Pride Quest Folding Scooter is great indoors and outdoors and is super-easy to fold so you can transport and store it without any fuss. It has a maximum speed of 4 mph, which adheres to UK laws and makes for safe travelling. It boasts front and rear LED lights, detachable battery box and has a carrying capacity of 253.5 lbs and weighs 50.7 lbs without the battery.