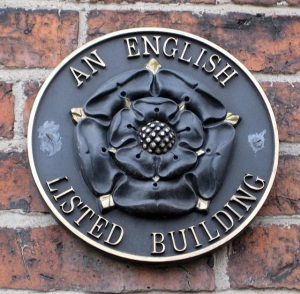 Listed buildings are a treasure and often have hundreds of years of fascinating history lending to their character. Life is complicated for listed property owners when they want to buy insurance. This is thanks to a tangle of red tape that average homeowners never consider.
What insurance do listed buildings need?
Listed buildings require non-standard insurance, and not all insurance companies offer sufficient cover to protect listed properties.  Fortunately, listed buildings have dedicated home insurance policies. However, you need to find the cover that suits your property's unique characteristics and risks.
Definition of 'listed property'
According to British Listed Buildings, a listed building "has been placed on the Statutory List of Buildings of Special Architectural or Historic Interest". Currently, the UK has nearly 500,000 listed buildings. Listed buildings can be any structure, including bridges and memorials that still have survived in much of their original state. Very old buildings (built before 1700) are all listed, and most structures built between 1700 and 1840 are automatically listed. Only younger buildings (built after 1945) of exceptional importance are listed. The youngest a building or structure can be to make the list is 30 years old.
England and Wales use the same classification criteria to grade listed buildings:
Grade 1: Buildings of exceptional interest, perhaps of international importance. Currently, only 25% of listed buildings have a Grade 1 listing.
Grade 2: Buildings of particular importance with 'more than' special interest. Currently, 5.5% of listed buildings have a Grade 2 listing.
Grade 3: Buildings of national importance and special interest. Currently, 92% of listed buildings have a Grade 3 listing. The majority of private residential listed buildings are Grade 3.
Scotland uses a classification system (A, B, C) that is similar to the system in England and Wales.
Anyone who owns a listed property needs to follow a very specific set of rules to retain its integrity. For instance, owners need special permission from local planning authorities to extend, alter or demolish parts of or the entire building. Local planning authorities often consult central government agencies before approving plans unconditionally, providing conditional approval or declining the application outright. Alterations done without approval can result in criminal charges.
Repairs, on the other hand, are mandatory, and any owner who fails to keep up with repairs or who allows the building to fall further into disrepair may face criminal charges.
Repairs, alterations, and extensions are complicated by the special materials required to maintain the structure. These materials are almost always more expensive than commercial materials commonly used. And this helps to drive up insurance costs.
Insuring listed property
Note that listed and non-listed older buildings generally fall into the listed buildings insurance category. This is because the techniques and materials used in the construction (and repair), and are more difficult to come by today and so are more expensive.
Listed buildings also come with inherent risks, such as damp, decay, and eroding brickwork. Their structure may also put them at greater risk of changing weather conditions and extreme weather, including storms and floods. A listed property may have stood up to weather for a hundred years, but all it takes is one exceptional storm to bring the roof (or walls) down.
In an article for the Telegraph, insurance intermediary company William Thatch said that as many as 80 per cent of period homes risk losing money if their properties are damaged or destroyed. Listed buildings face greater risk as only specialist (expensive) craftsmen can do the work. This is stipulated when you buy a listed building ownership.
Specialist insurance
It may seem unnecessarily expensive, but owners should consider getting unlimited cover with no maximum payout. Or they should agree to a higher excess payment for greater cover. Owners should not forget about contents insurance. Often the furnishings and décor complement the building, which includes antique or bespoke furniture that is expensive to replace.
Edward Powell of William Thatch suggests that listed property owners buy specialist insurance to cover the work required to restore the property to its original condition. If they don't can face criminal charges. Not being able to afford the cost of the work won't get you off the hook.
Living in a listed property is a privilege, and owners should treat their homes with respect. Routine maintenance and regular inspections are a matter, of course, to keep the property well preserved. It also saves you money in the long run.