Buying a new home is a stressful but exciting time. It's not an easy or straightforward process, either. It's a long road from finding a house to buying a house and then moving in. There are many steps involved and many things to consider along the way. When you finally move in, you may find a few changes are needed to ensure the house is suitable for your family. Safety checks when you move in can help a lot. These can be either aesthetic changes or, more importantly, changes for safety reasons.
Safety is not necessarily universal.
Houses are built to meet different needs. So a house that's suitable for one family may not be safe for another. Houses are also subject to wear and tear and need looking after. A poorly maintained home poses a number of potential safety problems. As the new owner, you need to explore your property and carry out visual safety checks to identify potential hazards.
Safety checks include
Firstly, watch out for tripping hazards. Falls can be quite serious for anyone – young and old. But they're largely preventable if stairways or walkways are maintained. Look for sturdy handrails, well-lit walkways and obstruction-free corridors and paths. Move electrical cords out of the way, preferably against a wall, and place non-slip mats under carpets. If you have small children, tidy up after them as often as you can to prevent tripping over toys.
Windows can also prove problematic if you have younger children. Children are more likely to be adventurous in their play, and windows provide opportunities for injuries. Children can open and climb out of locked windows. Or they could fall out and break a couple of bones. To avoid this, check that windows can be locked and not easily opened by curious fingers.
A not-so-obvious danger is that of electrical faults. Thorough electrical safety checks before you move in will locate any frayed wires or faulty outlets. Repair or replace faulty or frayed cords on electrical appliances and ensure all sockets are safe. If you have small children, you should cover electrical sockets with plastic coverings. Check smoke detectors to ensure batteries always work as they should.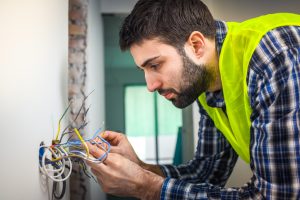 If you are an older family, there are other safety checks to remember. Bathroom alterations can help avoid serious accidents. Handrails can help you get into and out of a bath, and a non-slip bathmat will prevent any slipping.  If there is a staircase in the house, you may need to consider getting a stairlift or ensuring the house is wheelchair-friendly.
Regardless of whether you are a single person, a young family or older resident, an important safety check is the security of your new property. If there is a burglar alarm, test it to make sure it is working and make sure you know how to operate it. It's always a good idea to get to know your neighbours and find out if there is a neighbourhood watch society. Outdoor lighting and motion sensors also help in deterring potential burglars.
Finally, if your situation requires it, install a personal emergency response service – a medical alarm which has a wireless call button which can send a signal to emergency responders. Medical alarms aren't common, but they're essential in homes with vulnerable family members. Install an alarm if necessary.
Buying and moving into a new house should be an exciting experience. It is a chance to turn a house into a home and make it yours, but an essential aspect of this is making it safe for your family.