Do you need insurance when renting? And if so, what type of insurance cover do you need? In this guide, we'll cover contents insurance, renters insurance, and help you decide what kind of home insurance policy is the best choice for you.
The proportion of people living in a rented home in Britain has doubled in the last twenty years, and with rising mortgage costs, those figures are only trending one way. In 2022, an estimated 11 million people rent privately in England alone. If you are currently renting your home (or a room within a house share), this article gives you all the information you need on your home insurance options, plus what they do (and don't) cover.
What is home insurance?
There are two types of home insurance- building insurance cover and contents insurance cover. These can be bought separately or as a package. Tenants contents insurance, also known as renters insurance, is simply a contents insurance specifically designed for people who rent a home.
Buildings Insurance
If you are renting, the landlord is responsible for taking out buildings insurance on the property. This covers the structural elements of the home (i.e. the roof, the walls etc), and usually the fixtures and fittings too. It can also cover tenant-related issues, such as theft and damage.
While it is not compulsory, most mortgage lenders will insist on it as a stipulation of their loan agreement.
Contents insurance for renters
While the landlord is responsible for insurance the structure, as a renter you are responsible for the insurance of your possessions and the interior décor. Whether you're renting a home on your own, with a partner or your family, it's up to you to insure your possessions against unexpected incidents.
Contents insurance covers you for loss or damage to your personal possessions in the event of theft, fire, flooding and other incidents of that nature. It also covers your possessions in the event of loss or damage.
It's important to make sure that your contents insurance covers the value of the items you need to protect. Take some time considering the estimated value of your personal possessions and the furniture in your home. This includes things such as furniture, carpets, and any other decor you have in the property you rent.
Tenants contents insurance for shared homes
If you live in a flat-share or shared accommodation then you will only want to insure your own possessions, not the possessions of everyone in the property- in this instance, you may want renters insurance.
This is designed to protect your possessions (whether they are in your bedroom or in the communal spaces) against damage and theft by someone who doesn't live at the property. However, it will not protect you against theft or damage from your housemates or any invited guests (even if you did not invite them).
Tenants contents insurance, also known as renters contents insurance, may be applicable to people who:
Rent a home that came furnished, so are only looking to cover your own possessions
Live in a flat-share
Want to protect your personal possessions from someone you don't live with
Accidental damage cover to the property
It's important to make sure that the home insurance policy you are looking at does provide tenants contents insurance, and that you provide your insurer with accurate information on who lives at the property, the status of the property (i.e. a shared property as opposed to renting the whole home), and the value of the personal possessions cover needed.
What insurance do I need?
If you own your home and want insurance to cover the physical building as well as your belongings, you'll need Home and Contents Insurance.
If you are renting your home and rent the entire property, whether that's alone, with a partner, or with your family, you'll need Contents Insurance.
If you are renting a room as a part of a house-share or flat-share, you'll need Tenants Content Insurance/ Renters Insurance.
If you live in a retirement home, depending on your arrangement you may need Contents and Buildings Insurance or just Contents Insurance.
If you are a landlord, you should know that covering the building itself is the landlord's responsibility. You will need to ensure that the correct buildings insurance is in place, whether you are renting out a house or flat. Read more about landlord's buildings and contents insurance.
What does contents insurance cover?
Home contents insurance protects your possessions against accidental damage, loss and theft. This can cover a range of unexpected incidents, such as fire, flooding, natural disasters, vandalism, and theft. Items that may be covered in your policy, for example, include:
Furnishings- curtains, carpets, sofas etc
White goods- fridge, freezers, dishwashers, washing machines and dryers.
Possessions- clothing, jewelry, musical instruments etc.
Electrical goods- televisions, computers, stereos, mobile phones, tablets etc.
Some policies include coverage for possessions outside the home as well.
You can tailor your cover according to the cost of the possessions you own, the level of cover you need and what may already be covered under the landlord's insurance.
Unlike buildings insurance, contents insurance is not compulsory, but can be useful protection and piece-of-mind- especially if you lived in a shared property.
If you have high value items that cannot be covered under your typical contents insurance policy, you may want to consider taking out additional cover specifically for this single item.
Do I need accidental damage cover?
Accidental damage cover is for, as the name suggests, accidents such as spilled drinks, smashed mirrors etc. You may want to add this cover to your insurance policy. Bear in mind that not all damage to your landlord's property will be covered under this policy. For example, general wear and tear to the property cannot typically be claimed for.
Do I need personal possessions insurance?
If you have personal belongings that are worth a £1,000 or less and require cover for when carried by you outside of the home – for example, a bicycle, your phone, a laptop, or a piece of jewellery – you may want additional cover for these items.
This addition will ensure you can protect your belongings when they are out of the house, such as if your bike was stolen when locked up safely in public.
How do I make a claim?
You will be able to find the full details on how to make a claim if you need to in your policy documents. You can also login to your portal on our website to access your documents.
---
Find out more about home insurance from Surewise – you can have peace of mind and protection for your possessions in a matter of minutes.
We're delighted to have reached 5000 reviews and our 5-star rating on TrustPilot, the independent review website and would like to thank all of our customers for their feedback and help to make our service and our policies with the cover they provide into what they are today.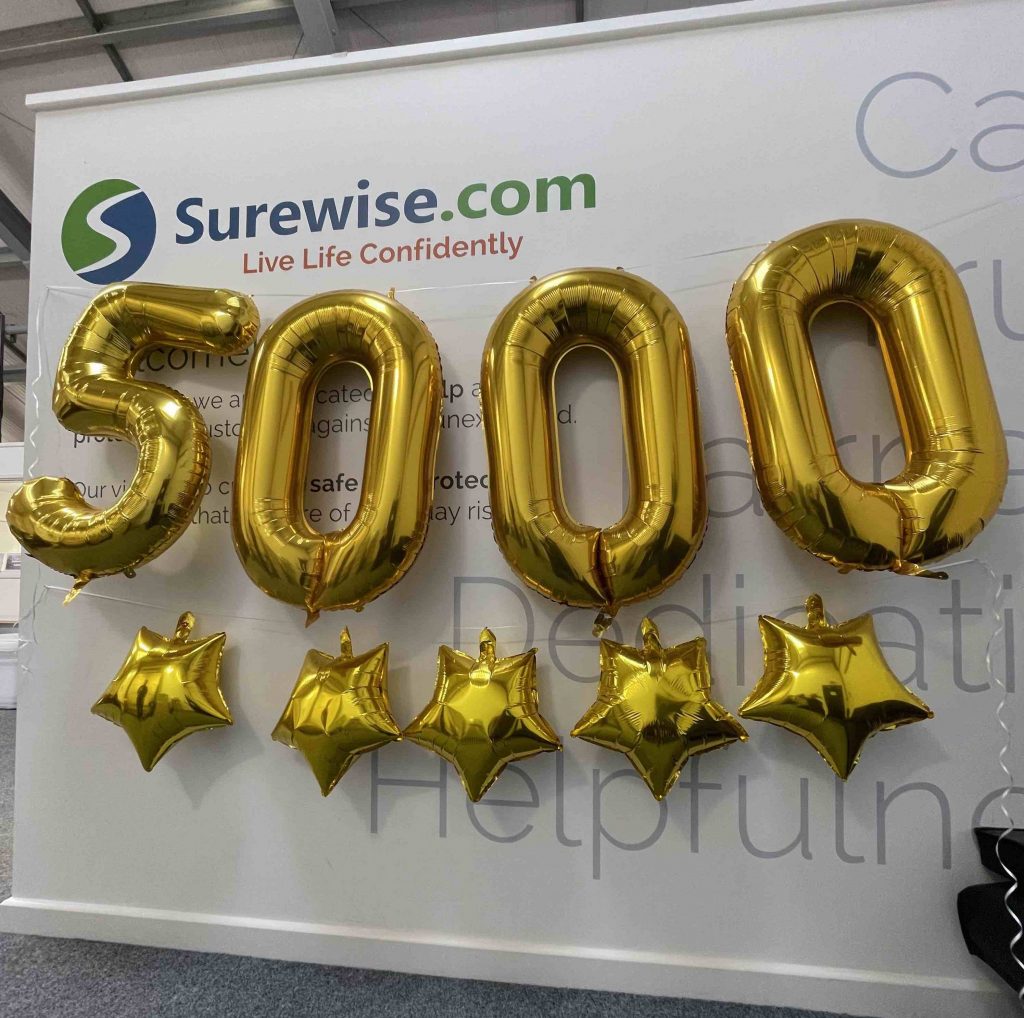 As soon as we launched Surewise in 2014, we aimed to review every single piece of feedback we receive from our customers at the highest level. Today, every single review, complaint or suggestion from our customers is reviewed by at least two of us, including a company director, and we LOVE hearing from you.
We're here to help you to live life confidently, knowing that you have fantastic insurance cover, from excellent underwriters and we want you to feel confident staying with us.
We work incredibly hard to avoid renewal price increases, have no hidden fees or payment charges and while good insurance is about the cover levels and claims service, not just the price, we are frequently the best value providers available.
But don't take our word for that, here are some of those reviews!