Carers Week took place from the 11th – 17th June this year, and is an annual campaign aimed at raising awareness of caring and highlighting the challenges carers face.
Each year, thousands of organisations come together to organise events throughout the UK to draw attention to the importance of caring and to show how much carers do for our society.
Why Does Carers Week Exist?
Did you know that an estimated 6.5 million people in the UK are carers, often looking after a family member or friend on top of other work and life responsibilities?
While caring is a hugely rewarding thing to do, it also comes with a lot of hard work and sacrifices – with many carers not receiving the support nor the recognition that they really deserve.
An overwhelming number of carers reported that they have often felt isolated and lonely in their role as a carer in 2017, so this week is dedicated to raising awareness and providing carers with the support they need.
How Was Surewise.com Involved?
We're an insurance provider committed to making a difference. Our carers insurance was crafted to be accessible to carers and to provide the protection they need to live life confidently in their daily tasks.
However, we also wanted to give back to those that give.
That's why our initiative, Thank a Carer, was created.
Thank a Carer provides an opportunity for people to thank a carer they know for the hard work they do, by nominating them for a prize given away every single week.
We love receiving so many wonderful, inspiring stories that tell of the great work carers do every day, and Thank a Carer provides a platform for those stories to be shared and rewarded.
On top of our weekly giveaways, for Carers Week 2018 we launched a 'Week of Giveaways', providing a lucky carer the opportunity to win a prize every day of the week.
(Check out Thank a Carer to see the kinds of prizes we gave away).
Fundraising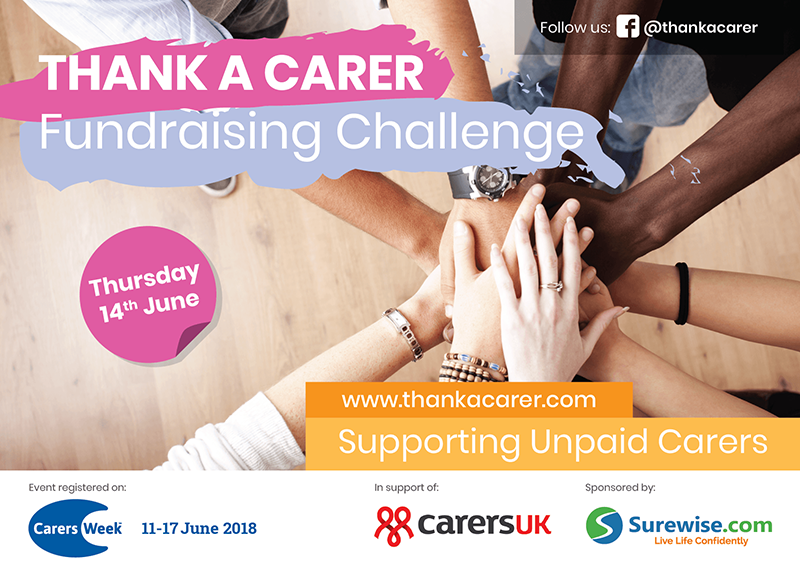 Carers Week also provides a fantastic opportunity to raise money for carers causes.
On Thursday 14th June, the Surewise.com team are fundraising for Carers UK with a fun event for a worthy cause.
Our team attempted to eat as many Maltesers as possible in 30 seconds – but here's the catch, they could only use chopsticks!
However many Maltesers are eaten was then be matched in pounds and donated directly to Carers UK.
Our team was so enthusiastic to take part in the challenge (we think the chocolate helped!), and in total, we managed to raise £175 for the charity.
Check out some of the photos we took during the event: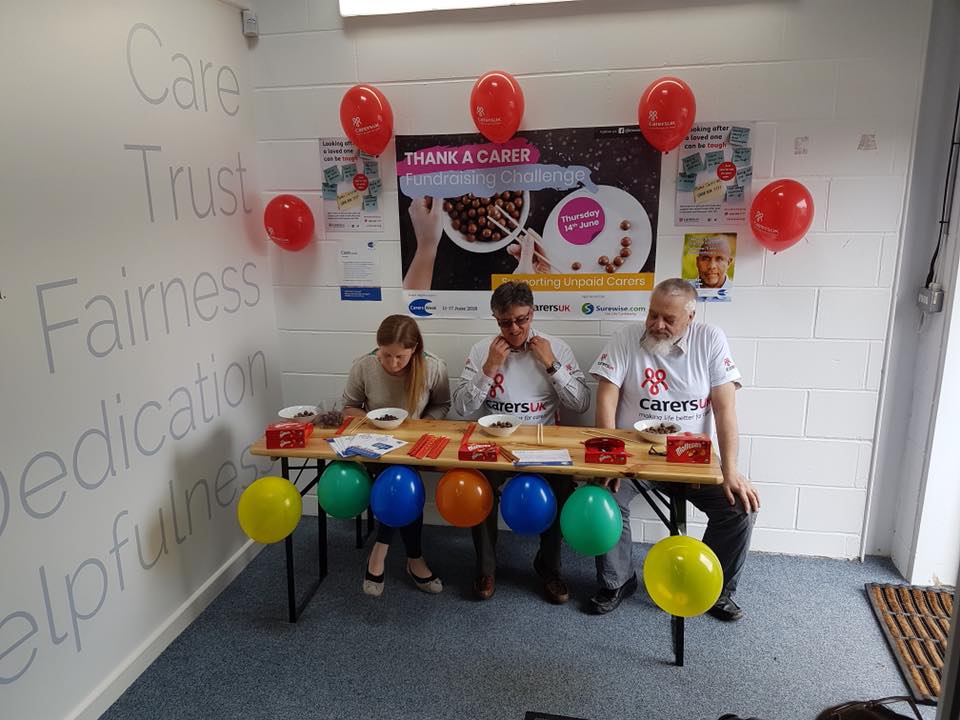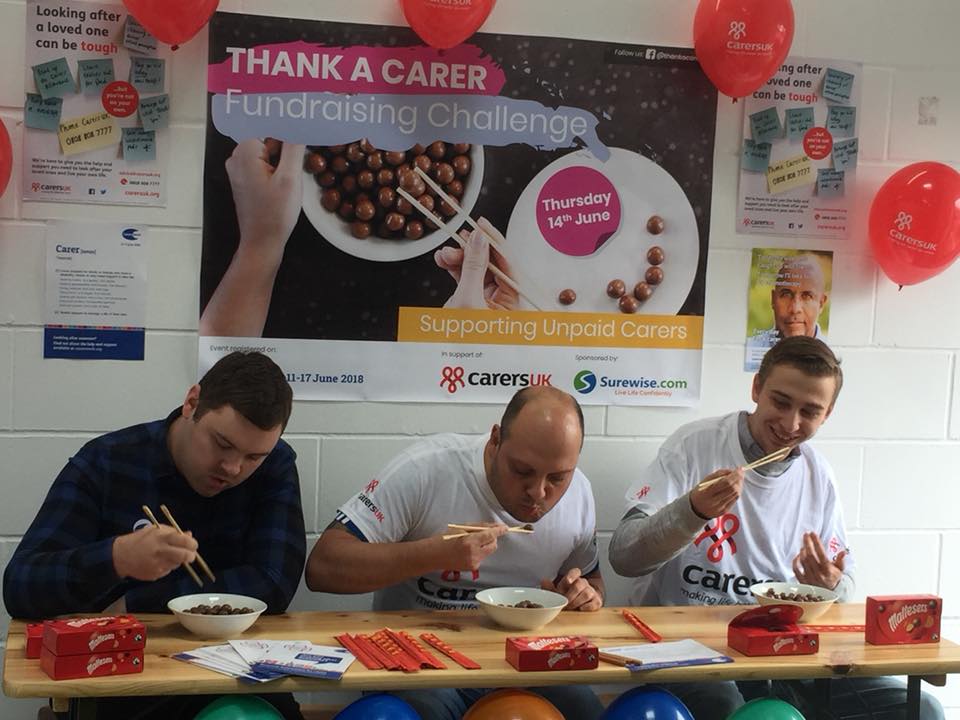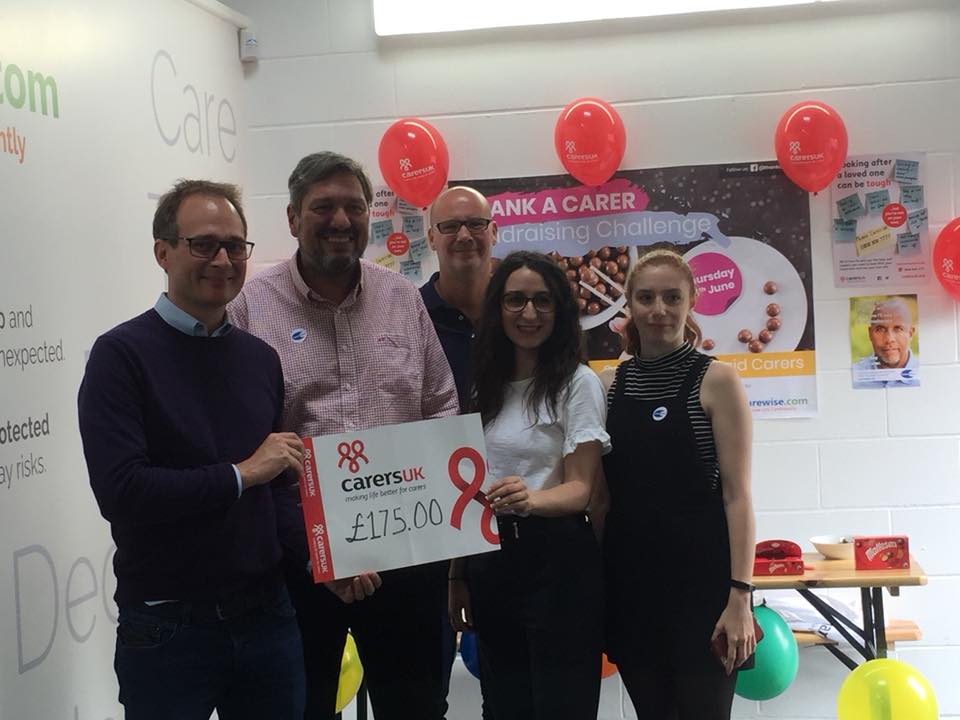 How You Can Get Involved
There are so many events taking place across the UK for Carers Week and afterward that it's easy for you to get involved in any way you can.
Check out the 'Get Involved' page on CarersWeek.org to see how you can help carers stay Healthy and Connected.