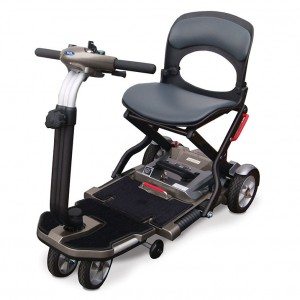 There are several things you need to consider before you buy a mobility scooter, but one of the first is whether you're going to buy your scooter online or in-store. Buying online has the benefit of being convenient, but you don't benefit from in-store service and advice.
TGA Mobility suggests that you ask online suppliers the following questions before you opt for convenience:
Does the product arrive in parts which you have to assemble or does it arrive ready-to-go? Consider your physical limitations and resources: Will you be able to assemble a scooter or do you have friends and family who can (and will) help you?
What happens if the scooter is damaged in transit?
Is it delivered by a courier company or by the company itself? This is important because an independent courier won't be able to demonstrate any of the features, but a company representative can give you a demo and give you advice regarding proper use, maintenance and care.
What happens if the scooter breaks down or a part needs to be repaired/replaced? Can the company pick up scooters for repair or is the owner's responsibility to take the scooter to a repair centre?
What is the response time after breakdowns are reported? What is the average repair time? Are 'loaner' scooters available while repairs are being carried out?
Looking for Mobility Scooter Insurance? – Cover for Accidents, Theft, Puncture Repairs and Recovery –
Click Here
for a quote!
Hoveround also has some good advice for anyone wanting to buy a mobility scooter online:
Choose a company that prides itself on being 100% accountable to consumers.
Look for industry-standard certifications and accreditations.
Is the site transparent; for example, it contains all the details about pricing, warranties and repair and return policies.
Provides ongoing assistance and support.
(Note: Hoveround sells mobility scooters online.)
Whether you choose an online or a bricks and mortar supplier, you need to find out about the company's reputation. Are they trustworthy and reliable, do they have good customer and after-sales service, do they maintain new stock and keep a supply of parts in-store?
If you doubt that the company can meet your needs in anyway, you should follow your gut a look elsewhere.
Buying a mobility scooter in-store may not be as convenient, but you can see the models in person and try them on for size. For example, you can sit in the seat and adjust the tiller or handles to see if it can be customised to your capabilities and size. Important features to consider include proper back support and easy-to-grip controls.
Bricks and mortar stores tend to carry different makes and models, so you can compare as you go, instead of trying to estimate and remember online comparisons. Shop around and don't be tempted to buy a scooter at the first store you enter. It's easy to find an affordable scooter that 'will do' but another store may offer more features and more benefits for less.
Sales staff can give you advice on what type of scooter best suits your needs; for example a 3-wheel or 4-wheel scooter. They can also fully explain the manual, service plan (if there is one) and recommend insurance. Motability dealers will also do a home visit to make sure you're getting on all right.
Hire mobility scooters or buy?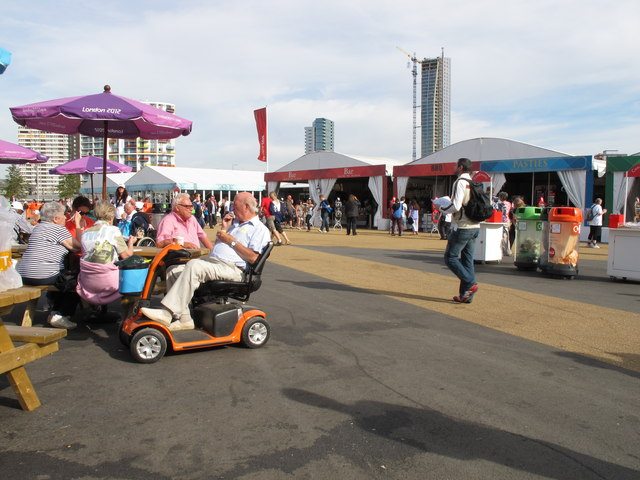 As with most products, it's thought that you should hire a mobility scooter if you have short-term needs, and buy a scooter if you need one on a permanent basis.
Good times to hire a scooter include:
When you're going on holiday and you have a deluxe, not very portable model at home. You can easily hire a scooter when you reach your destination.
When you have a temporary injury, such as a broken leg or torn ligaments, which will heal and get you back on your feet within a couple of months.
When you need to buy a mobility scooter but want to test out different models to see which suits your needs best.
Things to consider when you choose a rental company:
Do they deliver and pick up?
What kind of deposit is required, and under what conditions is the deposit forfeited?
Will you be billed for any repairs required (if you accidentally bump into a lamppost, for example) or do you have to return it fully repaired at your own cost?
What happens if the scooter breaks down during the rental period, through no fault of your own?
Where can you hire a mobility scooter?
Scooter rental companies:
Mobility Hire
Mobility Giant
Concord Mobility
National Mobility Hire
Wheel Freedom
Local disability living centres
Even some pharmacies have scooters for rent
Mobility Equipment Hire UK can deliver rental scooters to holiday destinations locally and abroad.
If you just need a scooter for a very short period of time – while you're shopping or touring a facility – you can usually rent one from shopping malls and tourist attractions.
Long-term lease
You can lease mobility scooters over the long-term with the Motability Scheme. If you receive a disability living allowance (DLA) or a personal independence payment (PIP) you can use the Motability Scheme to lease a scooter for up to 3 years. The scheme includes insurance, breakdown assistance and services.
Where to buy second-hand mobility scooters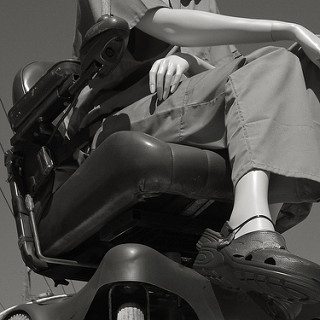 It may be that you need a heavy-duty mobility scooter, but you can't afford the new models on the market. Or perhaps you need a second, lighter scooter for travel. Then you have the option to buy a second-hand scooter.
There are plenty of good-quality, used mobility scooters for sale. You just have to know where to look for them. You also need to know how to avoid a lemon.
Private sellers are an options if you want to buy a used mobility scooter. You can find them in classified ads in your local paper, or online through sites like eBay and Gumtree. Other options are second-hand stores and NPOs.
Before you buy anything, however, it's important that you know what you're looking for and are aware of all the associated costs. After all, when you buying something second-hand, you don't get any warranties from private sellers and very short warranties from stores, and the risk of breakdowns is greater than if you were buying a brand new machine. You need to factor maintenance, repair and insurance costs into the deal. This is why it's important to get a full service history from the seller, so you have a good idea of what you're in for.
Try to get the original paperwork for the scooter and get the vehicle number, which you can check with the manufacturer to make sure you're getting the model you think you're paying for.
You'll find second-hand mobility scooters online at:
ScootaMart.com
WheelieGoodMobility.co.uk
eBay UK
Freeads.co.uk
Mobility Giant
Preloved.co.uk
Gumtree UK
National Mobility Hire – Pre-owned Equipment
Active Mobility
DisabledGear.com
Mobility scooters and the law
Driving mobility scooters in public is regulated by law. For example, you can only drive class 2 scooters on footways and pavements, while class 3 scooters can be driven on pavements and the road. Road rules also apply to mobility scooters. You can find out more here.
Mobility scooter insurance
Mobility scooter insurance is not compulsory in the UK (yet), but it is highly recommended. You never know when an innocuous service will reveal hundreds of pounds' worth of necessary repairs or when you'll accidentally drive over someone's foot and break their toes.
Looking for Mobility Scooter Insurance? – Price Promise with No Hidden Fees, No Excess, No Age Limit and 2nd Hand Scooters Covered,
Click Here
for a quote!