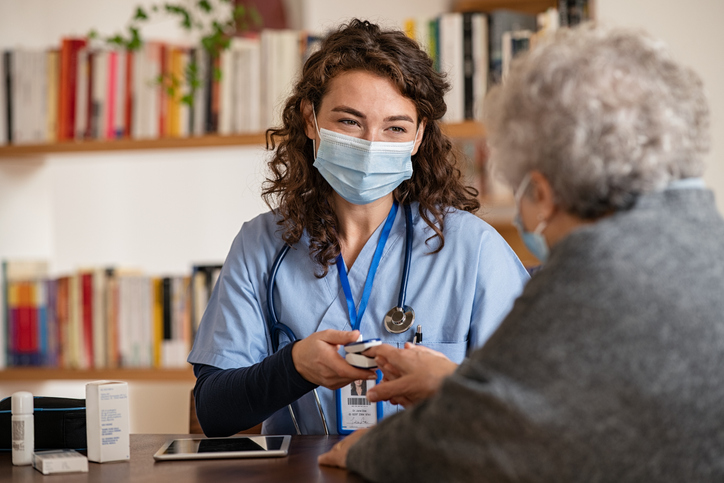 Becoming a carer is a very rewarding career path, and a very vital one, too. As a carer, you will help improve others' quality of life and provide a key service to those in need.
Making the decision to become a self-employed carer means you can do just that, in a way that works better for you. A self-employed carer will have more control over their working pattern, as well as the workload itself. For this reason, moving into the realm of self-employed care can be appealing to many. Having more control over your working hours is particularly appealing within a demanding industry such as healthcare.
As with any self-employed career option, it's important to remember that you will be running your own business as a carer in being your own boss. Therefore, there are many key steps to remember on top of your usual care responsibilities. 
Benefits of being a self-employed carer
Why might you want to become a self-employed carer in the first place? There are many benefits, including:
Setting your own hours so your work schedule can suit you
Greater control over your finances by setting your own rates
Experience managing your own business
Sound good? Let's take a look at how you can become a self-employed carer.
You'll Need the Key Skills 
If you're already qualified as a carer and looking to make the switch, you'll already have the training and/or qualifications in order to set up your business. However, if you're an individual with no care experience who is looking to become a self-employed carer in the first instance, then you'll need to make sure you gain the necessary care qualifications and training first, as these will be essential for the success of your self-employment. 
Key skills don't just mean qualifications or experience, either; you will need to understand how to work with vulnerable people in a patient and compassionate way.
The reason qualifications or training proof are important for self-employed carers is because clients will then more easily trust you as a professional individual.
Set Up Your Business Officially
Becoming self-employed means focusing on building your business before you continue (or begin) to care for clients. In setting up your business, you will need to focus on the basic starting essentials, which include:
Developing your business plan.
Planning your business goals.
Choosing the name under which you'll operate.
Registering as self-employed with HMRC for tax purposes.
Understanding the type of work pattern, you're looking for and the clients you wish to undertake.
Make Sure All Legal Areas are Covered, Including Carer's Insurance
As a self-employed carer, you will need to protect yourself, your business, and your clients in a legal fashion. Business and carer's insurance is a must for protecting your business, and you should also think about how you're going to do business with your clients. It's a good idea to have formal documentation for all your clients to maintain communication, such as a legal contract for each client. 
Our self-employed carers insurance is specifically designed for carers running their own business, providing cover for:
Accidental Injury to any person in relation to your work (e.g. your client, a member of the public)
Injury to yourself as a result of your work
Loss or damage to property
Allegations of negligence or abuse
Because you're also a business, you should also think about any other company essentials, such as health and safety, certain procedures, and risk assessments on top of insurance.
Decide on Your Hours and Rates
You'll now have more freedom to choose your working schedule but sticking to a schedule is a must to maintain a healthy work-life balance and stay organized as a professional. Decide how and when you would like to work and the hourly rate you wish to charge clients.
Once you have developed these points, you can then find your clients and meet with those people you wish to work with.