If you've been looking into how to become a self employed carer, it can be easy to feel daunted by the amount of admin that comes with setting your own business up – even if that business is composed of just you! Self-employed caregivers have a variety of responsibilities, and this article explains how you can become one as well as what careers you may be able to pursue.
Making the decision to become a self-employed carer means you can have greater control over your working hours, your rates, and the clients you work with.
For this reason, moving into the realm of self-employed care can be appealing to many – even despite the added responsibilities and administrative duties that come with being self employed.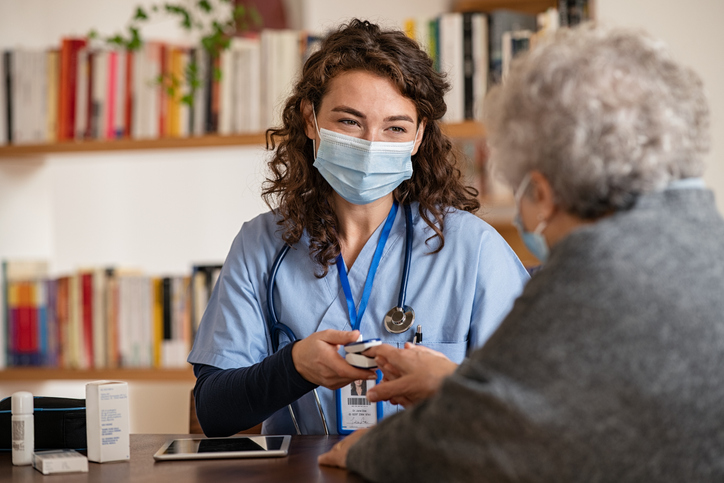 What Is A Self-Employed Carer?
A self employed carer is a trained care worker responsible for providing essential care to individuals at home. A self employed carer's duties can range from providing practical assistance such as personal hygiene and help with meals, other domiciliary care duties, to simply providing companionship to isolated individuals in need of added support.
Day-to-day, your tasks could range from meal planning and cooking, to providing light household duties such as vacuuming and dusting, pet care, managing medication, and assistance with your client's personal care.
Crucially, private carers are independently employed, and are in charge of managing their own client relationships, working hours, rates, and overall business.
Pros and Cons to Being A Self-Employed Carer vs Employed
Self employment may be an appealing option for many care workers who want a greater level of control over their hours and rates, but it also comes with added responsibilities and duties that may be daunting for some.
Pros
You can control your own working hours to better suit your schedule
You can set your own rates per client
You can be selective over what clients you work with
You have the potential to expand your business as much as you wish to
Cons
You'll be responsible for filing your own taxes at the end of each financial year
Other administrative duties, such as insurance and client contracts will also be your responsibility
You won't get other employment benefits such as sick pay, holiday pay, or employer pension contributions
Self employed carers may find themselves lacking the support system an agency can provide
How To Become A Self Employed Carer
1. Qualifications You'll Need
In the UK, there is not any single qualification that all care workers must have in order to become a self employed carer. A few that are strongly recommended and will boost your chances of success as a private carer include:
Level 1 Certificate in Health and Social Care
Level 2 Diploma in Care
T Level in Health
NVQ in Health and Safety, Levels 2 and 3
Courses such as Care Assistant/Support Worker or Health and Social Care
Other additional trainings and skills you may want to look into acquiring (if not included in the courses above) include:
First aid training,
Food hygiene
Health and safety certificates
2. Register As A Business
You will need to register for self assessment with HMRC and register as a self employed individual in order to start earning legally as a self employed carer.
If you are planning on keeping your business operations to just you for the time being, you will want to register as a sole trader. When registering a new firm as a sole trader, you'll create a business tax account by registering to pay income tax and Class 2 National Insurance contributions.
In the future, if you begin to consider expanding your business and take on junior members of staff, you may want to consider changing the business structure of your taxes to an organisation or LLC and register for pay-as-you-earn tax (PAYE) and corporation tax.
3. Register As A Care Provider
You may also want to officially register as an in-home care provider through the Care Quality Commission when launching your business.
You have the options to either register as an individual (best if you are operating as a sole trader), partnership, or organisation (which you may want to consider if you are planning on expanding your business and hiring junior staff).
You can register with the Care Quality Commission here, and follow their step-by-step instructions for registering your self employed business as a care worker.
4. Get Self Employed Carer Insurance
Before you undertake any work as a private carer, ensuring you are adequately covered against the risks associated with being a care worker is absolutely essential.
Self-employed carers insurance is specifically designed for carers running their own business, providing cover for:
Accidental injury to any person in relation to your work (e.g. your client, a member of the public)
Injury to yourself as a result of your work
Loss or damage to property
Allegations of negligence or abuse
Surewise Personal Assistant Insurance can cover you for a whole year from just £6.25 a month or you can opt for short-term carers insurance policies from £12.50 for the whole policy, making it an ideal and affordable option for those who require business insurance for carers.
5. Acquire DBS Certificates
Since private carers typically work with vulnerable adults or children, they need an Enhanced DBS (Disclosure and Barring Service) check.
Information about spent and unspent convictions can be found there, as well as whether someone is on the barred list, which means they are not allowed to work with vulnerable groups.
You can apply for an enhanced DBS check via the government website here.
6. Determine Your Rates
Finally, it's a good idea to determine your rates as a self-employed carer before you start taking on clients.  For reference, the average hourly rate for a care worker in the UK is currently £12.
It's important to gain an understanding of the industry standard, take your own experience into account, and establish a set of rates dependent on the type of care you will be providing.
When calculating your costs, you may also want to include other additional expenses such as the cost of your self employed carers insurance policy, training costs, travel (petrol costs), when establishing your rates.
Potential Career Avenues for Private Carers and Personal Assistants
1. Home care worker or personal assistant
Private carers will often work as a home carer, visiting clients in their place of residence to provide practical assistance and support for the hours contracted.
These may be people employing a private carer using their direct payments, or you may be able to find a directory of people looking for a self employed carer to work with.
2. Domiciliary care
A potential route for self employed carers is to become a domiciliary care worker. A domiciliary care worker provides domestic support such as grocery shopping, meal prepping, light housekeeping, and companionship for their clients.
We cover more about what a domiciliary care worker does and the type of insurance you would require here.
3. Live-in care
As a private carer, you may look for a higher-paying role as a live-in carer, providing round-the-clock care for a single individual.
4. Respite care
If you were looking for work on more of an ad-hoc schedule, respite care could be a great fit for you as a self employed carer. 
Respite care involves providing short-term care for a client while their usual care worker has some time off, whether for annual leave, sickness, or any other reason for needing respite from their care duties.
---
This guide should have given you all the essential information you need on how to become a self employed carer and begin growing your business today.
It may seem daunting at first, but once you have your business set up and have found your first client, you can begin to enjoy the independence self employment has to offer you!