In this guide, we've covered how to get a RADAR key for disabled toilets, how to use your key, and tips for accessing disabled facilities when travelling in Europe.
As a disabled person, it can be extremely inconvenient needing to request a disabled toilet to be unlocked by staff before you can use it.
Most disabled toilets are kept locked to prevent vandalism and keep them reserved only for disabled people, but it's not ideal to have to hunt down a member of staff to unlock a door just for your basic needs.
What is a RADAR key for disabled toilets?
In the UK, disabled toilets are often accessed using a RADAR key as a part of the National Key Scheme (NKS). There are over 10,000 disabled toilets in the UK that can be unlocked using a RADAR key, giving people with disabilities and health conditions a greater level of independence over accessing disabled facilities with using public facilities.
RADAR locks were first fitted in 198 as a way of keeping accessible toilets sanitary and free for disabled people, and the introduction of the NKS meant that anyone with a disabilities can now have a RADAR key for disabled toilets, without having to ask someone if to let them in first.
The RADAR key is a large, silver key with an ergonomic turning head, designed to be easier to use for people with limited mobility and distinctive in looks so you can find your key quickly when needed.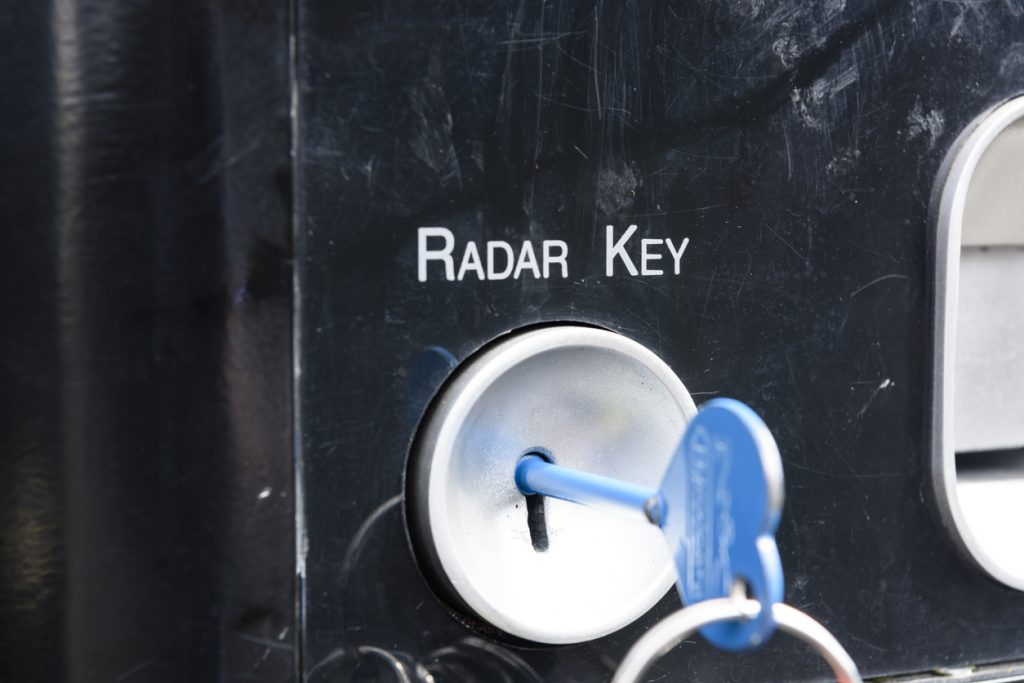 How to Get a Disabled Toilet Key
You can get your own RADAR key as a part of the National Key Scheme (NKS) through the Disability Rights UK online shop.
Alternatively, you may be able to speak with your local authority to buy a key from them directly. Just be certain that you are buying a legitimate RADAR key to ensure that yours genuinely unlocks disabled toilets with a RADAR lock.
Where can I use my RADAR key?
Over 400 local authorities in the UK use the National Key Scheme, as well as thousands of public and commercial businesses. This means that in many public spaces, you can reliably find a clean disabled toilet that can be unlocked with your own key.
If you haven't received your key yet, the staff will generally have access to one to help you access the disabled facilities.
If you have a RADAR key, it's good etiquette to still knock on the door before you unlock a disabled toilet – you never know if someone is already in there!
Who can use disabled toilets?
It's worth keeping in mind that not all disabilities are visible, so there are many people who may need to use the disabled toilets without the reason being immediately obvious. The Sunflower Lanyard scheme was created so that people with hidden disabilities could more easily identify themselves if they wish to do so – but this is a completely personal decision.
Universal disabled keys
Universal disabled keys open most disabled keys around the UK, Europe, or the rest of the world – depending on what type of universal key you have. Perhaps frustratingly, universal keys aren't that universal after all!
However, these keys can be extremely helpful to people with disabilities that feel frustrated and inconvenienced having to request a disabled toilet to be unlocked every time you need to use the facilities in a public place.
Universal disabled keys in Europe
It's important to note that RADAR keys often do not work in Europe. To access disabled facilities in EU-member countries, you'll need to acquire a Euro key.
This key fits around 12,000 locks, and is used most in:
Germany
The Netherlands
Austria
Switzerland
Czech Republic
Slovakia
However, more locations are beginning to use this key as the years go on, so you may find that your Euro key works in most countries than just those listed above.
To apply for a Euro key, visit CDF Darmstadt (the website is in German, but Google Translate should make it easy to navigate in English). Note that it is likely that you'll need to provide proof of disability in order to receive a key.
Do I need to provide proof of disability to get a universal disabled key?
Universal disabled keys are designed only to be used by people with disabilities or health conditions. To apply for a Euro key, you will normally be required to provide proof of your disability.
The Disability Rights UK website does confirm that RADAR keys are only sold to people who require access due to disabilities or health conditions, but there is no proof of this required throughout the checkout process.
How to find disabled toilets around the UK and Europe
Whether you're visiting a nearby town, or planning a trip across Europe, it can be helpful to have a guide to the nearest disabled toilets in your location. The following websites provide some helpful information:
You can find a regional list of disabled toilets on Toilet Map.
No Barrier has a directory of toilets for some European countries
Accessaloo has an app available for both Android and iOS listing disabled and accessible facilities across the world
Other guides you might find helpful:
About Surewise
We provide mobility scooter insurance starting from just £3.80 per month, covering theft, vandalism, accidental damage, and more. Our comprehensive protection covers both new and second-hand scooters, and includes 24/7 recovery assistance and puncture care.
We cover multiple drivers, with no excess or hidden fees on our policies. What's more, our policies are underwritten by The Salvation Army General Insurance Corporation Ltd (Sagic). Sagic are owned by The Salvation Army and support the diverse work of the renowned global charity. This means when you buy a policy, you will help fund vital community projects across the UK.