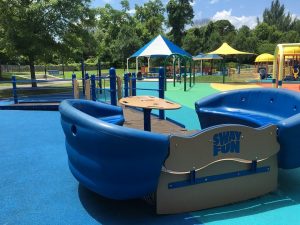 Children's playgrounds are places of fun, laughter and the occasional injury. But not all children can join in the fun because playgrounds simply don't cater to their special needs. Sadly, children with disabilities are often unintentionally discriminated against in public parks and playgrounds. Parents of disabled children in Cork have had enough. They successfully lobbied Cork County Council to make 140 public playgrounds more accessible to disabled children.
Universally accessible? Not so much
A lot of equipment in playgrounds is  'universally accessible', which implies they are disability-friendly. Unfortunately, this is not even close to the truth. Children who rely on mobility scooters, wheelchairs and crutches simply cannot access most play equipment. And most equipment doesn't meet special sensory needs.
According to Marcia D'Alton, you don't need a lot of expensive equipment to meet special needs. For example, D'Alton recommends rainbow chimes to provide sensory benefits. Chalkboards can help children who can't verbalise. Gentle rockers are a safe alternative to swings. Roundabouts with wheelchair accessibility are available for something like €6300 (£5640). All in all, you could make a playground suitable for disabled children for less than €15,000 (£13,414).
How to create a playground suitable for disabled children
Contrary to what many people think, plenty of manufacturers produce disability-friendly equipment. They are also designers with expertise in planning safe and accessible playgrounds for all children. It's important to use experienced designers because they can ensure the play areas are as inclusive as possible so that disabled children get maximum value out of the space. These designers need to thoroughly understand the complexities of different special needs so that they can design suitable play spaces with suitable equipment and suitable safety features. The idea is not only to provide a fun space but also to provide a challenging space that will help disabled children develop skills and build strength and confidence in a fun way.
Many playground equipment manufacturers consult industrial designers who have a complete understanding of various special needs associated with different disabilities. Equipment must be safe, stimulate the senses, improve manual dexterity, and obviously provide heaps of enjoyment.
For example:
Sutcliffe Play sells a rotating dish specially designed for dynamic fast play and which also incorporates special support that reinforces security for disabled children. It also sells 'sand and water' play equipment that allows children to make a splash from any position, including sitting in a wheelchair.
Where are disability-friendly parks hiding?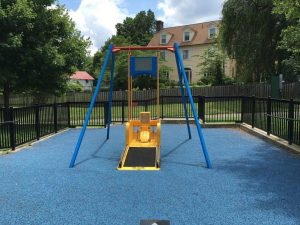 Some are hiding in plain sight.
Wandsworth Common's Lady Allen adventure playground won an award for providing adventurous, imaginative and exciting play opportunities for able-bodied children and children with disabilities.
Liverpool's Croxteth Country Park and Sefton Park have special wheelchair swings. The whole wheelchair is attached to the swing, which eliminates the need for lifting and transferring users.
KIDS Charity collaborated with Hertfordshire County Council to set up an accessible playground in Aldenham Country Park. It includes climbing frames, water play features, zip-wire, hobbit tunnel, tree house (and slide), basket swing, and sandpit.
Winchester's Colden Common currently has a wheelchair-accessible play area that has a roundabout with special harnesses to secure wheelchairs in position. Bournstream, an adventure play site located between Gloucester and Bristol, features a giant sandpit, climbing wall, rope and ladder, wooden climbing frame, play house, roundabout, and slides. It also has a gated water play area with grassy banks and space for paddling. The entire space is accessible to children with disabilities and special needs.
In Kensington, the Princess Diana memorial playground has an enormous wooden pirate ship at the centre, a sensory trail, tepees and all sorts of fun equipment that can be accessed by disabled and able-bodied children.
No limits
There is no limit on the types of activities and equipment that can be used to bring all children hours of joy and fun. County Cork's decision to make all its playgrounds fully accessible will hopefully set an example that other counties will follow. Disabled children have enough odds stacked against them, we don't need to make playgrounds and parks part of the problem. Let's make them part of the solution instead.